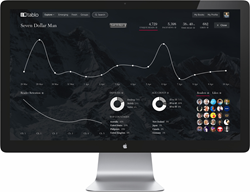 Tablo Scholar helps any passionate writer, whether they're an aspiring independent or a signed professional, learn more about their books and become an even better writer
Melbourne, Australia (PRWEB) April 24, 2015
Publishing startup Tablo today announced Tablo Scholar, a powerful analytics platform that's set to redefine the editing experience by allowing authors to understand how readers are engaging with their books.
Tablo, a social writing platform where authors can publish books and connect with a large audience of readers, sees more than one million words published every day from authors in 130 countries.
The new analytics platform, called Tablo Scholar, shines light on the trends and behaviours of readers within the pages of a book. Authors can gain insights, like which chapters readers find the most gripping and where readers typically stop reading their book, and harness these insights to edit and refine their writing. Authors can also learn about the demographics that show the highest levels of engagement for their books to optimise the way they communicate and market to their readers.
Ash Davies, Tablo's 22-year-old CEO, says that Tablo Scholar is a huge development for independent writers and for professional authors who are serious about their work: "Tablo Scholar is the most important product we've ever created because it helps any passionate writer, whether they're an aspiring independent or a signed professional, learn more about their books and become an even better writer. Tablo Scholar offers all authors a dimension of understanding that's never really been seen, and we can't wait to see how people use it."
"The first thing that strikes people about Tablo Scholar is its simplicity. You can tell that the experience has been designed by authors. You can learn how many readers get through the opening pages of your book, where your most engaged readers are from, and even connect directly with the people who have shown the most love for your work. We've worked hard to create a meaningful set of insights that can help even the most non-technical author learn about and improve their work," says Ash.
With hundreds of thousands of readers perusing the platform, and over 1 million words published daily, Tablo is rapidly becoming a place that uncovers and promotes great writers.
"Our goal at Tablo has always been to help writers improve their work and have a better chance at success. Authors know us as a platform that promotes great talent and we have a few of bestselling authors who are already making a name for themselves on Tablo. We're changing the very fabric of the publishing industry, and Tablo Scholar is going to give our writers an even better chance of success" says Ash.
Tablo Scholar is available at tablo.io/scholar with plans starting from $9/month.