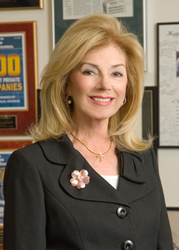 I am so pleased to solidify my relationship with Windstar through my appointment as Godmother.
Fort Lauderdale, FL (PRWEB) April 23, 2015
Windstar Cruises made three major announcements today at the Cruise3Sixty press conference in Ft. Lauderdale, FL. Gloria Bohan is the Godmother for the line's newest yacht, Star Legend; Windstar debuts a new Rising Star program for travel professionals; and Steven Simao is appointed as Vice President of Travel Agency Sales. In an effort to keep inboxes free of clutter, all three press releases are below.
Gloria Bohan, CEO of Omega World Travel, announced as Godmother of Windstar's Star Legend.
A seasoned travel executive and entrepreneur, Bohan brings over four decades of experience, expertise, and knowledge to the travel industry. She is the founder of Omega World Travel, the largest travel agency founded, operated, and majority-owned by a woman. Bohan is a travel industry leader with expertise that crosses all aspects of travel including corporate, government, meetings, vacations, and cruises.
Bohan cruised with Windstar for the first time in November, 2014 and enjoyed every minute of her experience. "I am so pleased to solidify my relationship with Windstar through my appointment as Godmother," says Bohan, "It's an honor to represent such beautiful ships, sailing such magnificent itineraries, and offering guests a true country club lifestyle experience. Windstar has really created a special cruising experience."
Windstar will unveil Star Legend on May 25 at a Christening Ceremony in Rome, hosted by Bohan as Godmother. The ceremony involves a pier-side celebration and the maritime ceremony of naming and christening the ship.
"We are honored to have Gloria serve in the prestigious role of Godmother of Star Legend. She is well respected in the travel industry, and a valued trade partner," says Hans Birkholz, CEO of Windstar Cruises. "Gloria is active with several philanthropic organizations and passionate about mentoring other entrepreneurs. Her entrepreneurial spirit aligns with Windstar's own philosophy, and we are delighted to partner with her."
In March Windstar announced female travel influencer Wendy Perrin as the Godmother for Star Breeze, Windstar's other addition to its fleet in 2015, which launches on May 6, 2015. Both Star Legend and Star Breeze underwent $8.5 million complete stem-to-stern renovations with new public spaces, suites, and dining venues. The addition of these vessels, as well as Star Pride that debuted in May of 2014, is allowing the company to cruise to new destinations in 2015 including Iceland, as well as year-round sailings in Tahiti.
###
Windstar debuts a new program for travel agents, entitled the Rising Star's Travel Agent Challenge.
The program gives top selling travel agents of Windstar's new all suite power yachts the chance to win a red carpet weekend in Hollywood during the 2015 Emmy Awards.
The top four agents who generate the most bookings on Windstar's new all suite power yachts, Star Pride, Star Legend, and Star Breeze, between April 23 and July 31, 2015, will win a VIP experience over the weekend of September 20, 2015. The VIP weekend includes:

Two tickets to the 2015 Emmy awards gala and pre-show
Two nights at the Ritz Carlton Hotel
Dinner for two on Saturday and Sunday night
Transfers between airport, hotel, and ceremony
Complimentary air credit from a Windstar gateway
The goal of the program is to drive bookings and brand awareness of the new to Windstar yachts, as well as to increase graduation from Windstar's Travel Agent Academy. To learn more about the program and how to win, visit http://www.windstarcruises.com/RisingStars.
###
Steven Simao joins Windstar Cruises as Vice President of Travel Agency Sales.
Simao will oversee domestic and international sales for Windstar's retail travel agency channel. He will report directly to Joe Duckett, Vice President of Marketing & Sales for Windstar.
Simao has spent the last 20 years in the cruise industry, most recently as the Director of International Sales at Holland America Line and Seabourn Cruise Brands where he oversaw international sourcing for developing markets and managed the worldwide network of GSAs for both brands. During his tenure at Holland America, Simao also served as Director of Sales for the Western Division, where he achieved Sales Division of the Year in each of his last four years, as well as Purser for Holland America's annual Grand World Voyage.
Prior to his tenure with Holland America and Seabourn, Simao acted as Chief Purser at Norwegian Cruise Line. He started his career as the Assistant Manager of Operations at Dorney Park and Wildwater Kingdom in Allentown, PA, a regional theme park.
Simao graduated from Mansfield University with a BS in Business Administration with an emphasis on travel and tourism.
"We are very excited to welcome Steve to the Windstar team," said Hans Birkholz, Chief Executive Officer of Windstar Cruises. "Steve brings unique experience and sales leadership in small ship luxury cruising. We look forward to his contributions and insight as we continue to grow Windstar Cruises."
About Windstar Cruises
Windstar Cruises operates a fleet of small luxury cruise ships known for its intimate yacht style experience and unique voyages to the world's best small ports and hidden harbors. Its three recently renovated sailing yachts carry just 148 to 310 guests and cruise to 52 nations, calling at 155 ports throughout Europe, the South Pacific, the Caribbean, South America, and Central America. In May 2014, Windstar launched Star Pride, the first of three newly acquired power yachts. In May 2015 the company launches Star Breeze and Star Legend. The power yachts, with a capacity of 212 guests each, will double the size of Windstar's fleet, making the company the market leader in small ship cruising with 300 or fewer passengers, with a total of 1,242 berths Windstar was recently named Condé Nast Traveler's #1 small ship cruise line in the world.
###