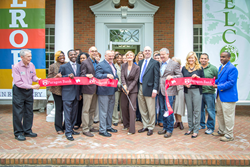 Music, arts and the outdoors truly reflect the overall identity and healing environment we have here at The Oaks, and we are proud to invest in the heart of Memphis
Memphis, TN (PRWEB) April 28, 2015
Foundations Recovery Network (FRN), an innovative behavioral health treatment provider, is pleased to announce the rebranding of its Memphis based residential treatment facility. The facility formerly known as the LaPaloma Treatment Center will now be known as The Oaks at LaPaloma, a name inspired by its unique positioning within a stand of beautiful old Oak trees long regarded for their sheltering presence.
While the name may be new, the commitment and dedication to helping people find freedom from addiction and mental health conditions remains the same. To further that commitment, FRN will invest $1 Million dollars over the next three years towards programming and facility improvements designed to enhance overall experiences and drive even greater patient outcomes. A partial listing of the upgrades planned for The Oaks at LaPaloma include:

A music therapy program, including a fully operational recording studio
An experiential outdoor meditation path
An enhanced art program, including original art throughout the facility
A sport court and enhanced recreational facilities
A cross-fit inspired gym
A new envisioning of the grounds with enhanced landscape features
"It is really exciting to launch this next phase of the healing journey that we've been on for many years here in Memphis," remarks Paige Bottom, CEO of The Oaks at LaPaloma. "Its inspiring to me and our entire team to think of how these new programs will be used to impact the people we serve as they embrace their own journey into recovery."
"The Oaks' 12 acre park-like setting is a Memphis healthcare jewel," says Lee Pepper, Chief Marketing Officer of Foundation Recovery Network. "Music, arts, and the outdoors truly reflect the overall identity and healing environment we have here at The Oaks, and we are proud to invest in the heart of Memphis and support our 120 employees and the thousands of patients that have passed through our doors over the last eight years."
For more information, please visit http://www.theoakstreatment.com
About Foundations Recovery Network (FRN):
Headquartered in Nashville, TN, Foundations Recovery Network is one of the premier organizations for treating those with co-occurring addiction and mental health disorders. FRN's treatment facilities include Michael's House in Palm Springs, CA; The Canyon in Malibu, CA; The Oaks at LaPaloma in Memphis, TN and Black Bear Lodge in Sautee, GA; as well as full-service outpatient treatment centers in Atlanta, GA; Santa Monica, CA; Memphis, TN; Nashville, TN; San Francisco, CA; San Diego, CA; and Palm Springs, CA.
All Foundations Recovery Network treatment centers practice a system of care that treats co-occurring disorders in a fully integrated approach for lasting recovery. For more information, please visit http://www.foundationsrecoverynetwork.com.
# # #