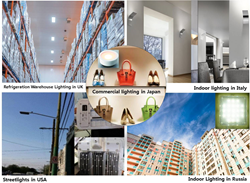 (PRWEB) April 24, 2015
Seoul Semiconductor announced the expansion of its proprietary Acrich technology for various applications in the lighting market. In recent months, there have been numerous successful installations of this technology in emerging markets such as Russia, South America, and Southeast Asia for a wide range of applications such as streetlight and area lighting, tunnel lighting, industrial lighting, and decorative lighting.
First launched in 2005 the Acrich technology from Seoul Semiconductor has provided innovative lighting solutions for a wide range of applications. With each successive generation there have been significant improvements in its performance leading to a greater market acceptance of this technology. The latest version of this technology, Acrich3, was launched in November 2014. Acrich3 enables Smart-Lighting systems, incorporates analog dimming inputs, and has an increased compatibility with existing TRIAC dimmers with the ability to do uniform dimming. In April 2015 Acrich3 premium with improved flicker performance was also launched. All these improvements have led to Acrich now being used in well over 50 countries for various lighting installations. Lighting designers worldwide have stated the simplicity of using this technology which operates directly from the AC mains, and also reduced component count and improved reliability of the luminaire as the primary reasons for incorporating Acrich in their lighting designs.
Marten Willemsen, senior vice president of Seoul Semiconductor's global lighting business, stated that the rapid growth of Acrich technology worldwide in various applications has proven the acceptance of this technology in the lighting industry. In the future, Seoul Semiconductor plans introduce more products to further enhance the adoption of this technology.
About Seoul Semiconductor
Seoul Semiconductor manufactures and packages a wide selection of light emitting diodes (LEDs) for the automotive, general illumination lighting, appliance, signage and back lighting markets. The company is the world's fifth largest LED supplier, holding more than 10,000 patents globally, while offering a wide range of LED technology and production capacity in areas such as "nPola", deep UV LEDs, "Acrich", the world's first commercially produced direct AC LED, and "Acrich MJT - Multi-Junction Technology" a proprietary family of high-voltage LEDs.
# Inquiry
Yang, Chang-keun, Seoul Semiconductor PR Team 070-4391-8012 / Chun, Tae-young 070-4391-8587