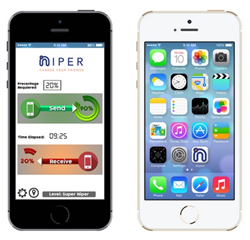 Hey friend, I see you're also a Niper – can you give me a boost?
Valencia, CA (PRWEB) April 25, 2015
Battery problems rate amongst the most prevalent complaints from users of smartphones and tablets. For example, 20 percent of Android customers' complaints are battery issues.
There are numerous reasons for this – incorrect usage, too many apps running at the same time, keeping screens open even when not in use, and a whole slew of additional causes. Some of the reasons are not user-related: such as with the complaints against iPhone 5 when iOS 8 was introduced in 2014 and battery life was considered disastrous . But there was a good chance that the battery drain on the iPhone 5 wasn't being caused by iOS 8. Third-party apps have a way of wreaking havoc on an iPhone's power source. It could also be that the user just didn't recharge it overnight or there might be gang of viruses or malware sucking it dry.
But no matter what the reason, Niper's current Indiegogo campaign offers a rescuse solution like a mobile "White Knight" to help "Friends in Need" - no matter what the cause of the drained battery and no matter which platform is being affected – Android or iOS.
Technologically speaking, the Niper system is fairly straightforward. The "smarts" are in the way the bracelet or Mini-Star hub are constructed to allow easy transfers irrespective of the platform - Android to iOS or vice versa; phone to tablet, iPad to phone and so on.
The Niper App – which is constantly being upgraded and improved – is where the real cleverness of the system resides: it is through the app that the "donor" can control exactly how much power is given to the "friend in need" ensuring that his or her own battery is not completely drained through an act of kindness.
According to CEO Ron Yirmiyahu, the Niper app will enable Nipers to recognize each other and lay the foundation of building a social network community. He revealed further concepts for the near future:
In much the same way that other "social" apps work, Nipers will be rated on how much they give earning points to push them up the Rating Ladder – Infant Niper, Baby Niper, Young Niper, Teenage Niper – Super Niper and so on. In the same way, Nipers who only take without contributing back to "society" will be negatively rated. Fellow Nipers will be alerted to the presence of other Nipers, who can be approached to help with transferring power: "Hey friend, I see you're also a Niper – can you give me a boost?"
Nipe Technology engineers are moving forward on the next gen Niper hardware and software, Mr.Yirmiyahu added. Users can expect some really exciting developments, he revealed:

Control screens on the bracelet and Mini-Star;
Faster operation so that the transfer time can be like a Formula 1 car in the pits;
The prospect of using the bracelet as a fashion item – wearable technology – coming in a range of colors and designs
Huge branding opportunities for companies, carriers and retailers as well
"As the Niper develops, and as the Niper social network community grows accordingly, there is little doubt that this apparently simple device can change the way smartphone owners use their phones; knowing that the days of going completely dark when the phone is most needed are probably over forever," Mr.Yirmiyahu added.
The world-wide crowdfunding campaign through Indiegogo (http://igg.me/at/niper) is running strongly with more and more donors participating every day.
Read more about the app and the campaign on its web site: http://nipetech.com/; Facebook: https://www.facebook.com/NiperNow; Twitter: https://twitter.com/Go_Niper or YouTube: https://www.youtube.com/c/NiperTech
About Niper
Niper, developed by Nipe Technologies Ltd., is a start-up company which has developed a patent pending power sharing technology and system enabling users to share battery power with friends and family on both iOS and Android mobile devices.
The technology and mechanics inside Niper were designed to create a simple, fun experience. These tools let any Niper user share and deliver the charging power that others need – quickly and easily. Users always have full control over how much battery power they wish to share, and how much you save for their own use.
Media Enquiries:
Larry Butchins
info(at)nipetech(dot)com
+927 54 678 2438
Or
Ron Yirmiyahu
NIPE TECHNOLOGY LTD
28494 Westinghouse Pl
Suite 206
Valencia, CA 91355
USA
+1-661-255-1800
ron(at)nipetech(dot)com