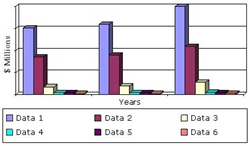 The global drug of abuse (DOA) testing market is estimated to grow at a compound annual growth rate (CAGR) of 4.5% to reach almost $3.5 billion by 2019.
(PRWEB) April 23, 2015
Wellesley, Mass., April 23, 2015 – BCC Research reveals in its new report on drug of abuse (DOA) testing, the global DOA testing market should reach $3.5 billion in 2019, reflecting a five-year compound annual growth rate (CAGR) of 4.5%.
The U.S. market is expected to reach $2.5 billion in 2019, with a CAGR mirroring the global rate of 4.5%. The European Union market is projected to reach $627.7 million in 2019, up from more than $500 million in 2014. In the rest of the world, the DOA testing market is estimated to reach $348.7 million in 2019, up from a 2014 projection of $279.5 million.
By sample matrix, urine DOA testing claimed the largest share of the market in 2014 with total global sales of $1.6 billion. DOA testing markets by urine is estimated to grow at a 4.6% CAGR of until 2019, reaching a market value of $2 billion that year. DOA testing by blood captured the second-largest share of the market with total sales worth $900 million in 2014. This market grew at 4.2% over the previous year.
Drugs of abuse testing has evolved from a small number of companies that focused on substance abuse testing of their employees during the 1980s to an industry valued at nearly $2.8 billion in 2014. The market is consistently growing, driven by legislation requirements in key markets. A major trend in the past decade was the emergence of onsite DOA tests. The range of drug testing specimens also has expanded to include blood, oral fluid, sweat and hair as testing sample matrices. Less invasive and more sensitive technologies have made simultaneous testing of many compounds possible.
"Technology advancements in the diagnostics sector, entry of new innovative companies in the diagnostics industry and consolidation trends in the in vitro diagnostics sector have transformed the market," says BCC Research analyst Jon Evans. "Budding industry segments within the DOA testing market include home drug testing and school drug testing, which are being driven by technology and policy developments."
Drug Testing: Technologies and Global Markets analyzes the current and possible future legislations affecting the market in the U.S. and other countries, and examines the influence of these acts in the development of the industry.
Editors and reporters who wish to speak with the analyst should contact Steven Cumming at steven.cumming@bccresearch.com.
About BCC Research
BCC Research publishes market research reports that make organizations worldwide more profitable with intelligence that drives smart business decisions. These reports cover today's major industrial and technology sectors, including emerging markets. For more than 40 years we've helped customers identify new market opportunities with accurate and reliable data and insight, including market sizing, forecasting, industry overviews, and identification of significant trends and key market participants. We partner with analysts who are experts in specific areas of industry and technology, providing unbiased measurements and assessments of global markets. Recently selected as the world's greatest market research company, BCC Research is a unit of Eli Global, LLC. Visit our website at http://www.bccresearch.com. Contact us: (+1) 781-489-7301 (U.S. Eastern Time), or email information@bccresearch.com.