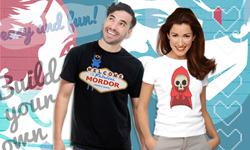 We help our artists to express their creativity, while we take care of manufacturing, logistics and customer service. On Tostadora.co.uk everything is in place to facilitate the launch of their online store
London, UK (PRWEB UK) 25 April 2015
Tostadora, the Spanish leader in online sales of original t-shirts, officially launches its UK website, http://www.tostadora.co.uk, enabling more buyers and designers to gain access to its community of 25,000 independent artists from more than 50 countries. Whether it is about designers of t-shirts, illustrators or photographers, they all use Tostadora to showcase and sell their amazing designs to an audience of international buyers eager for novelty and originality.
"We help our artists to express their creativity, while we take care of manufacturing, logistics and customer service. On Tostadora.co.uk everything is in place to facilitate the launch of their online store," said Tostadora CEO, Ollivier Jacq. The result? Thousands upon thousands of online shops offering unique t-shirts of various themes, inspired by the best of today's series, movies or other pop-cultures - as in the case of stores such as StationJack and Adho1982, or just being humorous and quirky like the creations of DroidLoot.
Life's too short to wear boring clothes and Tostadora.co.uk is here to present an alternative to mass-market designs. The idea is to bring personalization to Birthday gifts, stag or hen party events, or just the desire to express one's own identity with an original twist. With over 150,000 designs already available, there are no bad occasions to take up the opportunity to buy or create unique items on Tostadora.co.uk. More than 170,000 users have already bought their very own personalized t-shirts from Tostadora's selection of 150,000 original designs created by independent artists, or have had new designs fashioned for their very own 100% unique t-shirts.
"Since the launch of our business in 2009 in Barcelona, we've experienced strong annual growth of nearly 100%," says Ollivier Jacq. "Based on this success, we began our international expansion with the opening of an office in Paris in 2013, and in following summer started with business in our new office in London. Over the coming few months, we will continue to launch new websites for specific market regions such as Tostadora.de for Germany and Tostadora.pt for Portugal." Tostadora now has 5 websites dedicated to specific regions in Europe and the US, offering users the opportunity to create and buy their very own original and unique personalized products.
Those who wish to let their imagination run wild have the opportunity to open their own online store of unique t-shirts for free! Store owners are free to determine commissions earned on product sales. Tostadora redistributed more than a million Euros in copyright revenues to their independent artists!