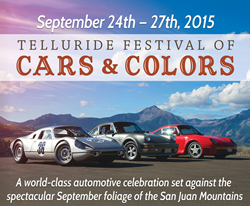 (PRWEB) April 25, 2015
Inaugural Telluride Festival of Cars & Colors Announced as World-class Celebration
TFCC Continues the Time-honored Tradition of the Concours d'Elegance, Gathering World's Finest Automobiles At One of America's Most Beautiful Destinations
Telluride is world-renowned for its splendor and its beauty. And in 2015, the inaugural Telluride Festival of Cars & Colors will continue the time-honored tradition of the Concours d'Elegance, and gather the world's finest automobiles at one of America's most beautiful destinations.
Telluride Festival of Cars & Colors, September 24–27, 2015, is a world-class celebration for automobile aficionados and lifestyle and travel enthusiasts, set in the beautiful town of Telluride, Colorado. Nestled in the canyons of the San Juan Mountains, it's placed against the backdrop of Telluride's spectacular palette of September's autumnal colors and focuses on high-end restorations, vintage and exotic vehicles.
The 4-day festival is open to the general public, with tickets ranging from $75-$400. Currently, and for a limited time only, the 4-day festival pass ($400) that allows access to all venues can be purchased on a 2-for-1 basis, a savings of $400. A select number of venues will be open and free to the public, such as the Cool Cars on Colorado and Village Plaza location.
Vehicle entry for the Concours at Mountain Village or the Main Street venue is $50 per car. All submissions will be subject to committee review before acceptance and placement.
"We're very excited to be creating this event right in our hometown of Telluride, Colorado. While Telluride is world-renowned during the winter for its ski season, the fall season's colors and ambiance is even more spectacular and perfectly complements the exquisite vintage machines, top-flight restorations, international exotics, and American classic and sports cars that we have lined up for the Concours," explains owner, founder and Telluride resident Ray Cody. "Telluride is host to many festivals throughout the summer months, many of them world famous. It's time that we come together and celebrate the passion we enthusiasts have for our automobiles in a setting where the beauty all around cannot be denied. Cars have always played an important role in my life, and Telluride holds a special place in my heart; it only makes sense to bring the two together."
The festival will occupy three distinct venues over the course of the 4 days: downtown Telluride Historic District including the park and pavilion, the Mountain Village, and the Telluride Regional Airport.
For additional information, tickets, vehicle and volunteer registration, along with sponsorship opportunities, please visit: CarsAndColors.com
About the Event, Venues and Exhibits
The downtown Telluride Historic District will be host to Cool Cars on Colorado, the Cars of the Stars exhibit and Cars & Colors Medallion Hunt.
Telluride's Mountain Village setting will be the kick-off location for the Million Dollar Highway Road Rally, a cruise that constantly ranks among America's top 10 most beautiful drives according to R&T. This 240-mile loop, which includes the San Juan Skyway Scenic Byway, will take participants over some of Colorado's most breathtaking roads and through old rustic mining towns. The closest matching time to the Rally Master earns the $5,000 cash prize.
Settle into one of Mountain Village's luxurious hotels, and then spend a long weekend experiencing the inaugural Mountain Village Golf Course Concours d'Elegance. Mountain Village is also the home base for the JFK Cars exhibit, Morning Revv and the Hot Cars in High Places event, a high-end wine tasting and tour of Telluride's most exquisite homes for sale.
Then fly to America's highest commercial airstrip at 9,070 feet above sea level when the Telluride Regional Airport will host a 3-day Regional Airport Fly-in where aviation and automotive enthusiasts alike can marvel at the speed and beauty of luxury airplanes, view vintage aircraft and a selection of fine automobiles.
The Telluride Festival of Cars & Colors is a family-friendly festival and we've created numerous specially curated activities to ensure that your family has just as much fun as the automobile aficionados do.
Connect with the Telluride Festival of Cars & Colors
Like TFCC on Facebook: http://fb.com/CarsAndColors
Follow TFCC on Twitter: http://twitter.com/CarsAndColors
Follow TFCC on Google+: http://google.com/+CarsAndColors2015