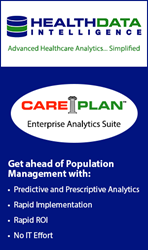 effectively manage cost of care
Columbus, Ohio (PRWEB) April 28, 2015
Health Data Intelligence is excited to announce the integration of the Johns Hopkins Adjusted Clinical Groups® (ACG®) system to its healthcare analytics suite, in the process adding industry-leading predictive capabilities. This enhancement expands HDI's ability to increase revenue for payers and providers through:

Reduction of Custom Care
Reduction of Disease Burden
Prediction of Overutilization by Care Type
Jude Odu, CEO of HDI, offered the following comment: "The pairing of ACG® with our own Fathom™ risk stratification methodology provides healthcare organizations with the most potent tool available today to discover and effectively manage cost of care and resource utilization for their entire patient populations."
To counter the real possibility that many hospitals will go out of business within the next five years, Health Data Intelligence (HDI) is committed to changing the status quo of lagging financial performance across much of the healthcare industry. The addition of the Johns Hopkins ACG® methodology further solidifies Health Data Intelligence's dedication to ensuring a bright future for the delivery of healthcare.
HDI recently showcased Population Intelligence for population health management and CarePlan™ an enterprise-level analytics suite providing performance metrics for identifying and addressing the root causes of the challenges hospitals face today at HIMSS15.
For more information or to schedule a demo please contact Sales at sales(at)healthdataintel(dot)com or visit Health Data Intelligence.
***
About Health Data Intelligence:
Health Data Intelligence (HDI) is leading innovation in healthcare analytics and evidence-based business decision support for hospitals and health systems.
HDI's mission is to help health systems and other organizations achieve improved quality of care for patients while eliminating waste and improving financial outcomes. HDI empowers healthcare professionals to make better-informed decisions that will make a difference in people's lives.
The HDI team is a dynamic group of healthcare veterans with deep experience in both clinical and business settings. The team brings over 60 years of direct, hands-on experience in healthcare IT, data analytics, clinical decision support, and medical services. Throughout their careers, HDI's founding members have had a determined focus on making healthcare data and medical products and services easier for busy health professionals to understand and use.
About Johns Hopkins Adjusted Clinical Groups® (ACG®)
For over three decades, the Johns Hopkins ACG® System has been the gold standard for risk-adjustment and population profiling in American healthcare. Based on the premise that clustering of morbidity is a better predictor of health services resource utilization than the mere presence of specific diseases or disease hierarchies, the ACG® System provides a multi-morbidity framework that is clinically logical, informative of future healthcare resources, easy to use, and applicable to both financial and clinical settings.