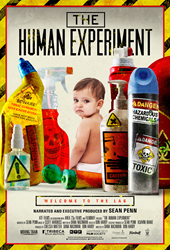 If the companies don't care about our health or our children's health, then they don't deserve the money we work so hard to make. - Dana Nachman, KTF Films
Muncy, PA (PRWEB) May 01, 2015
In a new film called The Human Experiment, Construction Specialties Inc. (C/S), a leading manufacturer of commercial building products, offers safer alternatives to dangerous chemicals in consumer products. Released nationwide April 17, 2015, in theaters and online, the award-winning documentary reveals the hidden dangers in common consumer products while also highlighting companies that have made deliberate efforts to eliminate harmful properties from their manufacturing processes.
Narrated and executive-produced by actor Sean Penn, the movie educates viewers about the prevalence of toxins in many items used daily including cosmetics, toiletries, cleaners, furniture and food containers. It delves into the health consequences that can occur when consumers are only minimally exposed to the chemicals.
The movie weaves strong research findings from scientists and medical specialists with emotional stories and footage, catering to both the mind and the heart. It opens a brief window into the lives of a young cancer survivor, a couple struggling to conceive and a professional housecleaner. Numerous activists are shown teaching, picketing, lobbying and even engaging in some peaceful guerilla tactics in an attempt to warn others and instigate change. Powerful corporations, which make many of the brands that line store shelves, refused to comment about the dangerous, untested chemicals used in their products.
To counterbalance the exposure of these harmful products, the film acknowledges companies that have made efforts to make their products safer. One of those companies, Construction Specialties, Inc., has removed chemicals of concern from a lot of its material and continues to make customer-driven improvements.
During one of the film's interviews, Howard Williams, C/S' Sr. VP of Sustainability, New Ventures, and Acquisitions states, "We've spent millions, but we believe we're going to get a return on that investment. We could have stayed PVC, and then waited for the market to totally reject it or a competitor to leapfrog us, but we didn't. The market wants these products. What a marvelous time where environmentalism, consumerism and these changes can come together to make a strong America, make job growth and redefine green jobs." C/S held private events immediately following the film premieres in New York City and Washington D.C. to foster discussion among leaders in sustainability including senior architects, designers, educators and NGOs.
Dana Nachman, writer, co-producer and co-director of The Human Experiment, worked on the movie for more than five years, attributing the desire to create it to an assignment she received as an NBC producer. The assignment was "how to detox your home" and at the time, she was unaware of the toxic state of most family housing. The shock of this realization sent her filming. Nachman's years of research have changed her viewpoint and she hopes at least one person in each screening is touched by the message. "It can be overwhelming to think about switching everything you use to safer alternatives, but if you start with one product at a time and go from there you won't go back to the toxic ones. If the companies don't care about our health or our children's health, then they don't deserve the money we work so hard to make. I feel it very empowering to not buy certain products as a way to deal with this issue." Nachman encourages people to use the hashtag #switchtosafer on Twitter when they find a better alternative to something they use every day.
To learn more about Construction Specialties, Inc., visit http://www.c-sgroup.com or Twitter @csinconline. For screenings and additional information about the film, visit TheHumanExperimentMovie.com or Twitter @chemicalmovie. It is currently available to view on demand and on iTunes.
About Construction Specialties, Inc.
Construction Specialties, Inc. manufactures and sells specialty architectural products internationally, with over 30 offices and manufacturing facilities worldwide. Its products include Interior Wall and Door Protection, Entrance Flooring, Expansion Joint Covers, Louvers, Grilles, Sun Controls, Explosion Vents, Smoke Vents, and Cubicle Track/Curtains. The company serves architects and designers, building owners, facility managers and contractors. Construction Specialties, Inc. was founded in 1948 and is headquartered in Lebanon, New Jersey.