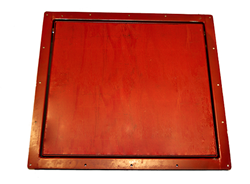 Hatch Systems offers the High Tide Escape Hatch to help families escape through their attic to safety should they be caught in rising waters due to hurricanes, tornados, flash floods and other natural disasters
Port Neches, Texas (PRWEB) April 28, 2015
Hatch Systems, manufacturers of High Tide Escape Hatch roof hatch, is pleased to announce they now hold new ICC Evaluation Service (ICC-ES) and TDI Test Results. The results were published on or after March 5, 2015. The High Tide Escape Hatch roof hatch is in code compliance with structural regulations according to the International Building Code 2012 for structural performance of building exterior; ASTM E330: Design Load Test Positive/Negative 100 psf. Structural Load Test Positive/Negative 150 psf. ASTM E1886 and E1996: Cycle Wind Load Test Positive/Negative 100 psf. Large Missile Impact Test 9.25 lbs. Speed: 50 ft./sec.
The ICC-ES is designed to provide the highest quality technical evaluation with clear evidence of a product's compliance according to industry standards for regulators and construction professionals. Fenestration Testing Laboratory, Inc. of Medley, FL conducted the roof hatch evaluation.
The roof hatch is installed between standard rafters and under shingles or overlay material of a home and designed to be watertight and invisible from the exterior. Opening the escape roof hatch was designed to be simple. A straightforward cranking mechanism opens the hatch inward so as not to be obstructed by fallen storm debris. Roofing material can then be moved or pushed away to create an opening and offer escape to the roof.
Hatch Systems offers the High Tide Escape Hatch to help families escape through their attic to safety should they be caught in rising waters due to hurricanes, tornadoes, flash floods and other natural disasters. The High Tide Escape Hatch is peace of mind and safety that's through the roof. It's the product every home should have, but hopefully never have to use.