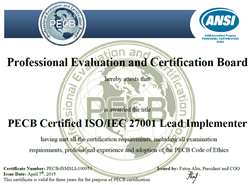 Having ten ISO certified consultants shows our commitment to the standard, sets us apart from competitors and gives our clients added assurance that we can get them certified.
Hamilton, NJ (PRWEB) April 27, 2015
As ISO 27001 has quickly become the de facto information security management standard for companies of all sizes and in all industries, Pivot Point Security has become a leader in helping companies prepare for ISO 27001 certification. The information security audit firm has worked with dozens of clients to prepare them for ISO 27001 certification. Pivot Point's commitment to ISO 27001 is stronger than ever, as evidenced by the number of Lead Implementers and Auditors the company employs (now ten full-time employees) to lead clients to successful certification.
"The demand for ISO 27001 certification is greater than ever," said John Verry, Security Sherpa and ISO 27001 Lead Auditor for Pivot Point Security. "We've acquired deep expertise over the years, helping clients achieve certification. Getting six more consultants certified as ISO Lead Implementers shows our exceptional commitment to the standard and to our clients."
"We now provide a depth of expertise that sets us apart from competitors and gives our clients added assurance that we can get them ISO 27001 certified," Verry continued. "This also validates our 'proven process' of using full-time employees, rather than contractors, to certify our clients."
Newly certified Lead Implementer Andrew Shumate commented, "Being certified as a Lead Implementer provides me a deeper understanding of the ISO 27001 standard and directly supports my ability to help clients get certified." Lead Implementer Bob Cohen agreed: "Being certified gives me a greater level of trust from the start with a new client. Now I have the ability and knowledge to implement the Pivot Point Security methodology in a way that meets the client's requirements and considers their unique operating environment and corporate culture. No two engagements are the same!"
The ISO 27001 Lead Implementer certification is a professional certification for professionals specializing in information security management systems (ISMS) based on the ISO/IEC 27001 standard. The Lead Implementer certification is intended for infosec professionals who want to understand the steps required to implement the ISO 27001 standard. In comparison, the ISO 27001 Lead Auditor certification is intended for an auditor wanting to audit and certify a system to the ISO 27001 standard. Having both these certifications on staff makes Pivot Point Security a stronger player in the ISO field.