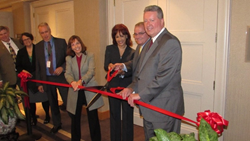 Akron, OH (PRWEB) April 23, 2015
Mature Services celebrated its 25th Anniversary of the Mature Workers' Job & Career Fair last Friday at the Akron Fairlawn Hilton, complete with a ribbon cutting ceremony and a proclamation from Summit County Executive, Russell M. Pry, declaring April 16, 2015 was Mature Services, Inc. Day.
On hand for the ribbon cutting were (from left to right in the above picture) Don Zirkle, Linda Valentine and Paul Magnus (all of Mature Services), Dr. Terry Albanese (Assistant to the Mayor for Education, Health and Families and standing in for Mayor Don Plusquellic of Akron), Ginger Baylor (for U.S. Representative Marcia Fudge of the 11th District), Mayor Bill E. Roth of Fairlawn, and Summit County Executive Russell M. Pry.
With an attendance of more than 700 mature job seekers, the forty-plus attending employers had a bevy of talent to survey for possible hires. Individuals submitted their resumes and filled out applications for jobs with businesses that fitted their interests, and spent time networking with employers. "We are really pleased with the people who are coming up and asking about our openings," said the representative at the Akron Children's Hospital's booth. "We have gotten a good number of candidates," she added.
This job fair is specifically created for the 50 plus and older demographic and allows older workers to be recognized as a viable part of the workforce. "Older workers possess many traits and skills that employers are looking for when hiring new employees, such as being hardworking, experienced and trustworthy," explained Don Zirkle, Training and Placement Supervisor for Mature Services Employment & Training Solutions. "These employers recognize this, and that is why they have chosen to be here today."
Employers clearly value the quality of the candidates that come to this event, because a number of them received awards this year for having participated almost since its inception. Award winners were: Sterling Jewelers, Inc., Infocision, Akron Beacon Journal, Summa Health Systems, Akron General Health Systems, Thomas Limousine, Akron Children's Hospital, Robert Half International, Hattie Larlham and Kent State University.
"Thanks again to the generous co-sponsors of this event," said Linda Valentine, President/ CEO of Mature Services. "Without them, this event wouldn't be possible," added Valentine. Sponsors for this year's event included Sterling Jewelers, Inc., Akron Beacon Journal, Synchrony Financial, Kent State University, Metro RTA, Rockynol/Senior Independence, Ohio Means Jobs Summit County, Universal Screen Arts and FirstMerit.
Mature Services' Employment & Training Solutions holds smaller Mini Job Fairs throughout the year. If you are an employer seeking new hires and would like more information about Mature Services' Mini Job Fairs, please visit http://www.matureservices.org/ets/minijobfair.php or call Don Zirkle at 330-762-8666 x174. If you are a mature worker interested in opportunities for paid training and job search assistance, call Caroline Barborak at 330-762-8666 x176.
Contact: Don Zirkle
Phone: 330-762-8666 x174
E-Mail: dzirkle(at)matureservices(dot)org