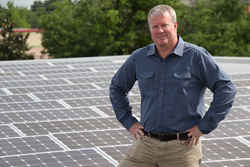 Orlando, FL (PRWEB) April 23, 2015
Goodwill spends more than $750,000 annually on energy at its retail stores, Job Connection Centers and Donation Xpress locations in Orange, Seminole, Osceola, Lake, Volusia and Brevard counties. Defraying these costs will allow Goodwill to provide job training and placement programs to an estimated 14,000 more Central Floridians by 2040. As part of Goodwill's Made in America initiative, the solar arrays will be manufactured in the United States.
To lead all its energy conservation programs, Goodwill Industries of Central Florida recently hired Robert McLaughlin as its first chief sustainability officer to lead its energy conservation programs, including Solar for Good. An eco-entrepreneur with roots in Central Florida, McLaughlin pioneered sustainable agriculture efforts in Latin America and California prior to joining Goodwill.
"Goodwill has established a long history of social responsibility by selling donated items to fund job opportunities for people in need," said McLaughlin. "Becoming more eco-friendly is a natural next step, and I'm proud to serve the community through this effort."
"Robert's leadership will be invaluable as Goodwill expands our solar initiative," said Bill Oakley, president and CEO of Goodwill Industries of Central Florida. "We've seen promising results at our Waterford Lakes location – and with our community's support, Solar for Good will help us reach more individuals with disabilities, limited work history and other barriers to employment."
Goodwill is seeking community support for the Solar for Good program during its fundraising phase. To learn more or donate, visit http://www.championsofsolar.org