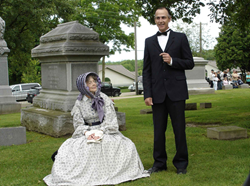 Galena, IL (PRWEB) May 20, 2015
It's not every day that the public gets to hear the historic stories of Galena, Ill. straight from the mouths of the people who lived them. Guided by gravediggers in Greenwood Cemetery, former Galenians present their compelling stories in live theater format during the Galena-Jo Daviess County Historical Society's annual Cemetery Walk June 13-14.
"Greenwood is a link to our past, like an open history book," said Ronn Toebaas, writer and director of the Walk. "The cemetery is a place to celebrate life and to connect with Galena history in a very tangible way. We have an outstanding cast of local actors to bring these wonderful stories to life." The lives and stories portrayed include:

John Turney, Galena's first lawyer and a major player in the city's early development.
Dr. Thomas Livermore, a dentist in Galena prior to the Civil War, speaks to the rudimentary beginnings of dentistry.
Gen. Augustus Chetlain, who was instrumental in organizing and training 17,000 black soldiers during the Civil War.
Gen. Augustus Chetlain's two wives, Emily Tinny and Annie M. Smith.
Gen. William Rowley, who was aide-de-camp to Ulysses S. Grant during the Civil War and saw action at Fort Donnelson, Shiloh and Vicksburg.
Lucy Venable, whose husband committed suicide while suffering from a medical condition, speaks about prevalence of suicides before doctors had means of effectively alleviating pain and before many safety nets were available to help patients avoid financial ruin.
Ann Fiddick Edwards speaks about her luxurious lifestyle in a well-to-do neighborhood on Galena's "Quality Hill."
"It is an amazing testament to the community's past that we continue to find such fascinating stories to share," said Toebass. "This also helps keep the performances fresh year after year."
Tours start every 20 minutes at Greenwood Cemetery between 2-4 p.m. An indoor "seated" performance at 8 pm on Sat., June 20 will be held at Grace Episcopal Church, 309 Hill St., Galena IL 61036.
Details, other area offerings and lodging options can be found at http://www.VisitGalena.org or call 888.942.5362. While in town, stop by the Welcome Center in the Old Market House, 123 N. Commerce St., Galena IL 61036.