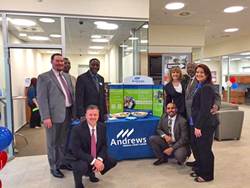 Suitland, Maryland (PRWEB) April 24, 2015
Andrews Federal Credit Union recently opened its newest branch location in Hainerberg, Germany on April 17.
Located near the Hainerberg Housing Area just outside the city of Wiesbaden, the branch is within the confines of the Community Bank; a new approach within the Military Banking system. It will feature traditional retail banking, as well as hi-tech solutions to cater to the needs of the diverse member demographic in the surrounding region.
"Andrews Federal looks to benefit from the new Hainerberg location by having a point of presence in a large logistical hub within the expanding Wiesbaden community," said Michael Bartelle, VP of European Operations. "Our membership will be afforded the convenience of a one-stop shopping/banking experience."
About Andrews Federal Credit Union
Andrews Federal Credit Union was founded in 1948 to serve the needs of military and civilian personnel by providing a vast array of financial products and services. With over $1 billion in assets, Andrews Federal has grown to serve more than 113,000 members in the District of Columbia, Joint Base Andrews (MD), Joint Base McGuire-Dix-Lakehurst (NJ), and military installations in central Germany, Belgium, and the Netherlands. In addition, the Credit Union serves as a financial partner with many select employee groups in Maryland, the District of Columbia, and New Jersey.
To learn more about Andrews Federal Credit Union and its community involvement, or to become a member, call 800.487.5500 or visit http://www.andrewsfcu.org.