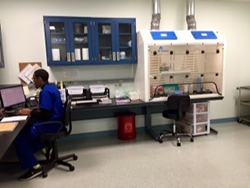 Washington, DC (PRWEB) April 11, 2016
Foot and Ankle Specialists of the Mid-Atlantic, LLC ("FASMA") opened a podiatry-only physician-owned laboratory in its headquarters in Rockville, MD, in September 2015. The lab was recently featured in the January/February 2016 edition of the American Podiatric Medical Association (APMA) publication APMA News in an article titled, "Is a Pathology Lab Right for Your Practice?" The article uses the FASMA lab as a case study on the pros and cons of creating an on-site pathology lab. It also explores the details and effort that went into planning, creating, and running the lab.
The overall goal of FASMA's on-site laboratory is to provide excellent patient care. "We can see patients back sooner and render the most appropriate care sooner. It's about the quality of care and most appropriate care; we're not doing shotgun therapy, providing treatment without knowing what we're treating," said David Freedman, DPM, Vice President of FASMA.
Foot and Ankle Specialists of the Mid-Atlantic, LLC, has 22 locations in DC, Maryland, Pennsylvania, and Virginia. To find a location near you, and to request an appointment online, please visit our website at http://www.footandankle-usa.com.