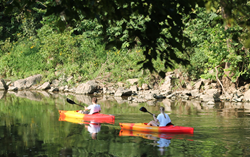 Abingdon, VA (PRWEB) April 24, 2015
Get off the grid and into the water, with adventure and fun on the North Fork of the Holston River, just outside Abingdon, VA. Michael and Eva Beaule will open their doors for Adventure Mendota on May 2, 2015. Adventure Mendota is a paddle sports river outfitter offering fun for the whole family.
Visitors can rent a kayak or a tube for some exciting water journeys, or try their hands at small mouth bass fishing with an experienced guide. Adventure Mendota rents waterproof GoPro cameras to capture those special memories on video. Guests with their own kayak or canoe can use the parking and shuttle service at an affordable price.
Mendota rests in southwestern Virginia, close to the line between Washington and Scott Counties. It is a 15 minute drive from Abingdon, and generally a 25-45 minute drive from anywhere within the Ti-Cities geographic area.
Many people in the area have noticed the surge in kayaking popularity. It's with good reason. More people than ever are joining in the fun of riding the currents and enjoying the majestic beauty that's seldom witnessed from the roads. Mike Beaule realized what a unique opportunity this presented the community of Mendota, Virginia. He decided to utilize his 500 feet of riverfront property as a means of giving outdoor enthusiasts a launching spot.
The North Fork is designated a "Class I" river. This means the water is generally slow moving and relaxed, perfect for a family excursion on a tube or in a kayak. Adventure Mendota offers a wonderful break from the typically rushed family vacation, for users of all experience levels. It's a place to truly get off the grid and into the water.
While float time varies depending on river conditions and your paddling, the kayak trip will generally run two-to-three hours, and the tubing trip about one hour.
As previously mentioned, no previous kayaking or floating experience is necessary to enjoy the facilities. All those taking part will be required to wear a personal flotation device for their safety, and these are provided to guests renting kayaks and tubes without charge. Anyone under 18 will be required to have a Liability Waiver signed by a parent or guardian (available on their website).
Adventure Mendota is a dream realized for the owners, Mike and Eva. Mendota was once a flourishing community with a sizable population. With more townships and cities in the region benefiting from ecotourism, they hope to see the Mendota area again bustling with happy people and wonderful memories. Eva sums it up with "I live in a postcard called Mendota. Come see me!"
"Float the Fork" reservations and further information may be found at http://www.adventuremendota.com or call 276-645-1020.