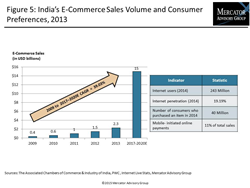 The biggest barrier to India's domestic payments industry is that a very large proportion of the population is unbanked and underbanked.
Boston, MA (PRWEB) April 23, 2015
India is home to the second largest consumer base in the world, but to date the fact that a large proportion of the population is unbanked and underbanked has prevented electronic payments from reaching the levels of growth seen in other leading developing markets. Today, however, signs point to an awakening market poised for robust growth in the years ahead.
India has experienced innovations across the different payment segments in recent years, and the launch of new payment products and technologies in the marketplace is anticipated. Mercator Advisory Group expects the Indian market to garner more attention from the global payments industry, particularly within the mobile payment and e-commerce segments, as these segments have the most potential and are expected to undergo the most innovation and change in the next few years. There is still plenty of room for growth within the traditional retail banking and payment card segments as well, and these segments will certainly attract investment and further acquisitions of domestic players by international industry participants.
"The biggest barrier to India's domestic payments industry is that a very large proportion of the population is unbanked and underbanked. Unless the industry and the government are able to tackle this issue and migrate hundreds of millions of individuals into the electronic payments mainstream, the country will continue to lag behind other leading developing markets like Brazil as well China, the market that is most comparable to India. However, all signs point to this changing in the years ahead as the government and industry double down on their efforts related to financial inclusion," comments Tristan Hugo-Webb, Associate Director of the Global Payments Advisory Service and author of the research note.
Highlights of the research note include:

An overview of the retail banking segment in India with an in-depth look at branch and ATM deployment in the country between 2009 and 2013
A review of the electronic payment segment in India with an in-depth look at payment card issuance and use and the existing point-of-sale acceptance network between 2009 and 2013
Examination of emerging technologies and new segments like mobile payments and e-commerce in India
This report contains 12 pages and 6 exhibits.
Companies mentioned in this report include: Alibaba, Alipay, American Express, Axis Bank, China UnionPay, Citibank, Discover, Ezetap, HDFC Bank, ICICI Bank, MasterCard, Paytm, RuPay, State Bank of India, and Visa.
Members of Mercator Advisory Group's Global Payments Advisory Service have access to these reports as well as the upcoming research for the year ahead, presentations, analyst access, and other membership benefits.
For more information and media inquiries, please call Mercator Advisory Group's main line: (781) 419-1700, send email to media(at)mercatoradvisorygroup(dot)com.
For free industry news, opinions, research, company information and more visit us at http://www.PaymentsJournal.com.
Follow us on Twitter @ http://twitter.com/MercatorAdvisor.
About Mercator Advisory Group
Mercator Advisory Group is the leading independent research and advisory services firm exclusively focused on the payments and banking industries. We deliver pragmatic and timely research and advice designed to help our clients uncover the most lucrative opportunities to maximize revenue growth and contain costs. Our clients range from the world's largest payment issuers, acquirers, processors, merchants and associations to leading technology providers and investors. Mercator Advisory Group is also the publisher of the online payments and banking news and information portal PaymentsJournal.com.