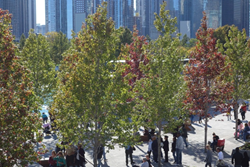 Tree loss has an emotional impact. 60% of Chicago-area residents say they are concerned with the loss of trees in their city.
Lisle, Illinois (PRWEB) April 27, 2015
Chicago and its seven surrounding counties have more than 150 million trees – trees that make area communities healthier, more sustainable and more beautiful. Yet Chicago-area trees are under threat, with one of every five parkway trees likely to soon be destroyed by the emerald ash borer beetle.
Chicago-area residents are concerned, as evidenced by a new survey commissioned by The Morton Arboretum. The Lisle, Illinois-based tree-focused institution's Talking Trees survey reveals just how much Chicago-area residents care about trees and the future of the urban forest–the trees that live alongside people in the city and suburbs.
Key findings include:

A green neighborhood is an ideal neighborhood. Two-thirds of those surveyed place top importance on trees when deciding where they want to live, saying they would "never live in a neighborhood without trees."
Tree loss has an emotional impact. 60% of Chicago-area residents say they are concerned with the loss of trees in their city, while nearly half are specifically aware of the emerald ash borer beetle.
Area residents know city trees need human help to thrive, yet aren't sure how to help them. Eight of 10 Chicagoans believe that trees need human help to thrive, which is especially true in populated cities, where trees undergo extra stress living alongside people and cars, as well as in smaller spaces. Yet, while 65% agree that the trees where they live need to be checked regularly for pests and diseases, only 41% know that area trees need help getting enough water, and even less (36%) are aware that trees need mulch to thrive in cities.
Chicago-area residents understand some of the benefits of trees. Most Chicagoans know that trees clean the air (86%), and "make me healthier" (66%). But only about half know that they have an impact on flooding (49%), and only slightly more know that trees increase a home's value (56%), and protect against climate change (57%).
Area residents understand the concept of "tree diversity" and its importance in the future of Chicago and its surrounding cities. The best defense against future tree pests is to plant a wide variety of trees–and nearly three-fourths of those surveyed agree! According to the Arboretum's experts, the best defense against major tree loss is to plant a varied selection of trees.
Trees Under Threat
An estimated 10,000 tree species are threatened worldwide, trees that support ecosystems around the world. Yet, compared to threatened animals like the panda bear or bald eagle, trees receive much less awareness. In fact, only 3 in 10 Chicagoans can name an endangered or threatened tree, while nearly 6 of 10 Chicagoans can name an endangered animal.
Trees Need Champions
Now more than ever, every tree needs a champion, especially those that live in urban areas. Facing compacted soils, artificial surfaces, summer heat, and physical damage to limbs and roots, our urban trees need human intervention to live. Meanwhile, people–quite literally–cannot live without trees and the myriad benefits they provide. This is why the Chicago region's urban forest needs planning, management and care.
The Morton Arboretum's arborists, horticulturists, researchers and teams of volunteers work diligently to protect and conserve the trees that make our cities so beautiful, dealing daily with issues like the emerald ash borer and fungal diseases that are decimating much of the Chicago-area treescape. But there are simple ways that every Chicagoan can do his or her part to help our area's trees thrive.
About The Morton Arboretum
Established in 1922, The Morton Arboretum is an internationally recognized outdoor tree museum and tree research center located in Lisle, Illinois. As the champion of trees, The Arboretum is committed to scientifically-informed action, both locally and globally, and encouraging the planting and conservation of trees for a greener, healthier, more beautiful world. On 1,700 acres are 220,000 plant specimens representing 4,100 different kinds of plants, along with specialty gardens, educational exhibits, the award-winning Children's Garden, 16 miles of hiking trails and the Visitor Center, featuring The Arboretum Store and the Gingko Restaurant and Café. The Morton Arboretum is a not-for-profit 501(c)3 charitable organization, welcoming more than 932,000 visitors and serving 39,250 member households in 2014. Learn more at http://www.mortonarb.org.
Methodological Notes
The Morton Arboretum's survey was conducted by Wakefield Research among 500 Chicago-DMA resident adults aged 18+, between March 23 and March 30, 2015, using an email invitation and online survey. Quotas have been set to ensure reliable and accurate representation of the Chicago-DMA adult population 18 and older.
Results of any sample are subject to sampling variation. The magnitude of that variation is measurable and is affected by the number of interviews conducted. For the interviews conducted in this particular study, the chances are 95 in 100 that a survey result does not vary, plus or minus, by more than 3.1 percentage points from the results that would be obtained if interviews had been conducted with all persons in the universe represented by the sample. Complete survey results are available.