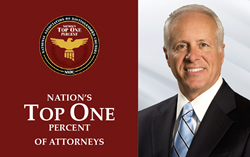 Newtown, PA (PRWEB) April 23, 2015
Recognized Bucks County personal injury attorney John F. Cordisco has been selected to the distinguished "Top One Percent" list of attorneys by the National Association of Distinguished Counsel. As one of the top personal injury lawyers in Southeast Pennsylvania and Philadelphia, Cordisco has litigated cases to multi-million dollar results and represented victims of trucking accidents, medical malpractice, products liability, as well as pharmaceutical cases.
Due to the selectivity of the appointment process, only the top one percent of attorneys in the nation are awarded membership in NADC. This elite class of attorneys consists of the finest leaders of the legal profession from across the United States. Members are thoroughly vetted by a research team, selected by a blue ribbon panel of attorneys and approved by a judicial review board as exhibiting virtue in the practice of law.
With over 25 years of litigation experience, Cordisco has dedicated his professional and personal life to helping others. In the practice of law, he focuses on representing innocent victims who have been injured or have suffered wrongful death. His diverse career includes many roles, from factory worker and teacher, to member of the Pennsylvania House of Representatives. In 2014, he founded the personal injury law practice Cordisco Law LLC, where he currently represents injured victims.
Cordisco has a long history of community outreach and has worked to improve conditions for children outside the United States. With assistance from Food for the Poor, he established and helped build The John Cordisco Education and Feeding Center in Managua, Nicaragua that provides a safe place for Nicaraguan children to play, attend classes and obtain healthy and nutritious meals. Through his work, Cordisco also helped build orphanages for special needs children and schools in Central America. He founded the Have a Heart Foundation, which provides assistance for special needs children and their families. Also, he received the Ted Lindeman Humanitarian Award for helping local special needs children within Pennsylvania.
Cordisco earned his undergraduate degree from Rider College in 1977 and graduated with his Juris Doctorate from Temple University School of Law in 1986.
About the National Association of Distinguished Counsel
The National Association of Distinguished Counsel is an organization dedicated to promoting the highest standards of legal excellence. The mission of the NADC is to objectively recognize the attorneys who elevate the standards of the Bar and provide a benchmark for other lawyers to emulate. By virtue of the incredible selectivity of our research process, only the elite few are invited to join the ranks of the NADC. Specifically, less than 1% of practicing attorneys in the United States are members of the "Nation's Top Attorneys". The recipients of this prestigious award have demonstrated the highest ideals of the legal profession.