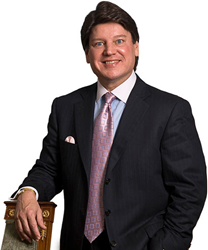 Houston, TX (PRWEB) April 23, 2015
Dr. Paul Vitenas, one of Texas' top cosmetic surgeons, recently hosted Allergan's President of Facial Aesthetics Philippe Schaison at Vitenas Cosmetic Surgery's offices in Houston to discuss the future of the aesthetic industry. Allergan is the maker of some of the industry's top medical aesthetics including Botox Cosmetic, Latisse, and Juvederm.
In discussing the future of the industry, Allergan said the potential for new patients is at high levels. Their market research indicated there are around 12 million potential patients who have never undergone an injectable treatment that are currently on the proverbial fence about trying a procedure. Allergan also discussed during the meeting about their success with its direct-to-consumers campaign for Voluma. This $10 million campaign is being featured in magazine ads, television commercials, and product placements in television shows that boast a large female viewing audience.
Philippe Bibi and Alexander Vitenas, who together with Dr. Vitenas oversee the Mirror Mirror Beauty Boutique, were also in attendance.
"The meeting was planned so that our largest corporate partner would have an opportunity to come and see what we have been able to achieve at 4208 Richmond Ave with the launch of our new Surgery Center, the relocation of our cosmetic surgery practice, and the launch of Mirror Mirror Beauty Boutique," said Dr. Vitenas.
In addition to discussing the future of the industry, the meeting also focused on the physician dispensed cosmeceutical skin care market. This led to conversations about Allergan's acquisition of Skin Medica in 2013 and how much market share Skin Medica has seized since this acquisition.
"This is a real area of expertise for Mr Schaison having come from L'Oreal," explained Dr. Vitenas. "He mentioned that Skin Medica had grown its revenues by a whopping 18 percent in the last year and that they believe that they will have eclipsed Obagi's market share in the next few years based on their more modern technology and lack of regulatory issues surrounding the use of 4 percent Hydraquinone and Tretinoin."
Finally, the breast implant business was discussed, as Allergan has released numerous advances to the market over the past year including the Seri Surgical Scaffold.
Dr. Vitenas boasts over 20 years of experience and is board certified by the American Board of Plastic Surgery. You can learn more about Dr. Vitenas and Vitenas Cosmetic Surgery at http://www.drvitenas.com.
Vitenas Cosmetic Surgery
4208 Richmond Ave. Suite 200
Houston, Texas 77027
(281) 484-0088