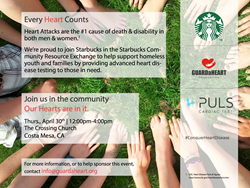 "When we come together with giving hearts for the community, those that receive heart disease testing certainly benefit, but the act of giving and helping others has also been shown to promote heart health." Dr. Farzan Rajput
Costa Mesa, CA (PRWEB) April 23, 2015
The GUARDaHEART Foundation, a 501(c)(3) a nonprofit organization dedicated to fighting heart disease through awareness and prevention, is proud to partner with Starbucks Coffee for the Starbucks Community Resource Exchange benefiting homeless children and their families. The event, which will be held Thursday, April 30th at The Crossing Church, aims to connect those in need with basic essentials and services including, health & wellness testing, counseling, and job training.
GUARDaHEART will be donating tests for heart disease, including baseline risk assessments and highly-advanced testing with the PULS Cardiac TestTM – a blood test that analyzes the most clinically-significant proteins to detect and diagnose the leading cause of heart disease early-on to help prevent disease progression and heart attacks.
"We're proud to join Starbucks in their effort to help youth and families who are facing challenges, gain access to necessary resources," commented Estrella Harrington, founder of GUARDaHEART. "Heart disease is a major cause of death and disability in this country, and in our community, and we believe that life-saving health information, testing and prevention support should be accessible."
Dr. Farzan Rajput, leading Cardiologist from South Coast Cardiology, will be working alongside GUARDaHEART to provide testing. Commented Dr. Rajput, "When we come together with giving hearts for the community, those that receive heart disease testing certainly benefit, but the act of giving and helping others has also been shown to promote heart health by reducing stress and lowering blood pressure. Everyone involved benefits, and collectively, we make a dent in conquering the heart disease burden."
Other organizations will be participating with GUARDaHEART in the event, including Tosi Health, Marissa Kenson for MK Collab, Cookie Connection, and Tanaka Farms.
The special event will host a carnival for children, and will be held on Thursday, April 30, 2015 from 12:00pm-6:00pm at Team Kids Inc., The Crossing Church.
For information on volunteer and sponsorship opportunities, contact GinaM(at)guardaheart(dot)org.
About GUARDaHEART
GUARDaHEART is a 501(c)(3) nonprofit dedicated to fighting heart disease with the mission: "LEARN. DETECT. PREVENT." GUARDaHEART works with strategic partners, healthcare providers, and other non-profit organizations to promote awareness through education and risk detection tools, to ultimately empower preventative action and reduce the risk of heart disease worldwide.
About the PULS Cardiac TestTM
The PULS (Protein Unstable Lesion Signature) Cardiac Test analyzes clinically validated proteins directly related to the biological processes underlying Unstable Cardiac Lesion formation and CHD development. The research behind the test found that the use of nine biomarkers and established clinical risk factors correlated with the underlying formation of unstable cardiac lesions, and proved to significantly improve identification of at-risk patients frequently missed by current methods. Results demonstrated that the novel protein-biomarker and clinical risk factor algorithm identified patients who are at risk of an acute coronary event. Acute Coronary Syndrome (ACS) is the main cause of coronary artery disease mortality. For more information, visit http://www.PULStest.com.