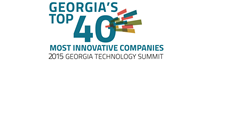 It is with great honor to be once again recognized by TAG as a top technology leader in the state of Georgia ~ PJ Bain, CEO
Atlanta, Ga (PRWEB) April 23, 2015
The Technology Association of Georgia (TAG), the state's leading association dedicated to the promotion and economic advancement of Georgia's technology industry announced PrimeRevenue, Inc., the leader in working capital finance, as one of its Top 40 Innovative Technology Companies in Georgia.
TAG'S Top 40 Awards recognize Georgia-based technology companies for their innovation, financial impact, and their efforts at spreading awareness of Georgia's technology initiatives throughout the U.S. and globally.
"The 2015 Top 40 finalists are an elite group of innovators who represent the very best of Georgia's Technology community," said Tino Mantella, president & CEO of TAG. "The 2015 Top 40 finalists are shining examples of what makes our State such a hotbed for technology and we applaud them for standing out as leaders in Georgia's technology community."
Atlanta-based PrimeRevenue, Inc., provides the most innovative SaaS supplier finance solution in today's market giving its rapidly expanding global customer base the flexibility and control to either improve their working capital or become more profitable by automating and maximizing supplier discounts. Using a comprehensive mix of tools and services, PrimeRevenue helps over 17,000 organizations of all sizes become more profitable while strengthening their trading relationships across the entire supply chain.
"It is with great honor to be once again recognized by TAG as a top technology leader in the state of Georgia," said PJ Bain, PrimeRevenue CEO. "This award is a testament to our commitment to developing forward-thinking solutions that help our customers innovate their financial supply chain and accelerate their business performance, and we look forward to continued growth and success".
About The Technology Association of Georgia (TAG)
TAG is the leading technology industry association in the state, serving more than 26,000 members through regional chapters in Metro Atlanta, Athens, Augusta, Columbus, Macon/Middle Georgia and Savannah.
TAG's mission is to educate, promote, and unite Georgia's technology community to foster an innovative and connected marketplace that stimulates and enhances a tech-based economy. The association provides networking and educational programs; celebrates Georgia's technology leaders and companies; and advocates for legislative action that enhances the state's economic climate for technology.
TAG hosts over 200 events each year and serves as an umbrella organization for 34 professional societies. Additionally, the TAG Education Collaborative (TAG's charitable arm) focuses on helping science, technology, engineering and math (STEM) education initiatives thrive.
For more information visit the TAG website at http://www.tagonline.org.
About PrimeRevenue, Inc.
PrimeRevenue is the acknowledged leader in supplier financing, managing and optimizing cash flow for more than 17,000 customers in over 50 countries. The comprehensive solutions offered by our OpenSCi product suite allow our clients to involve their strategic trading partners to create tangible value for the entire value chain. Last year, more than $75 billion in supply chain transactions was processed through our platform. PrimeRevenue has developed a deep understanding of financial supply chains and has quickly become the leading solution provider in financing solutions for businesses through close collaboration with their treasury and procurement teams. Headquartered in Atlanta with offices in multiple continents, we provide a global reach to best serve our customers with local market knowledge and expertise.
For more information visit: http://www.primerevenue.com