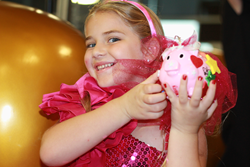 Tampa, Fla. (PRWEB) April 23, 2015
The Museum of Science & Industry has given away more than 2,000 piggy banks to local youth over the last three months. These piggy banks are part of MOSI's Give Change to Make Change campaign, sponsored by PNC to encourage youth philanthropy by raising money to send 600 kids, who otherwise could not afford it, to MOSI Summer Science Camp. The fundraiser will culminate in a Children's Gala on May 2, from 4 - 7 p.m.
The evening will begin with dessert served first in a root beer happy hour and a build-your-own ice cream sundae station. Then, young philanthropists will enjoy a DJ dance party, community art project, and special appearances by Raymond from the Rays baseball team, the Ghostbusters, 501st Legion Star Wars troop and a magician. Guests can look for MOSI's S.T.E.A.M.punks performing random acts of science throughout the evening, or think, design and create with Idea Zone activities. Dinner will be provided by Benedetto's Ristorante Italiano and BJ's Restaurant.
Children are encouraged to dress up and compete to win prizes from MOSI's Elements gift shop for the best-dressed boy and girl. Creatively decorated piggy banks can be entered into a best-dressed piggy competition. Additionally, the young philanthropist who raises the most money will win an iPad Mini.
Piggy banks are now available in the MOSI lobby through April 25. No purchase is necessary to acquire a free piggy bank. When young philanthropists pick up their piggy bank, they will receive instructions for the "care and feeding" of their piggy. They can bring their pig's contents back at any time and as many times as they want and add to the Summer Science Camp scholarship fund. When they bring back the contents of their pig, each child will receive a ticket for two (one adult and one child) to the Children's Gala. Admission to the gala for additional parents or siblings without a piggy bank is $10 each.
The piggy banks and the Children's Gala are part of MOSI's Give Change to Make Change campaign, presented by PNC Bank, which aims to send 600 underserved children to MOSI Summer Science Camp.
The Give Change to Make Change campaign is sponsored in part by PNC Bank, Florida Dairy Farmers, CAE, Lewis Jackson, Quarles & Brady, BJ's, Benedetto's and CCD Services. For more information, call 813-987-6000 or visit mosi.org.
# # #
PNC Bank
PNC Bank, National Association, is a member of The PNC Financial Services Group, Inc. PNC (http://www.pnc.com) is one of the United States' largest diversified financial services organizations providing retail and business banking; residential mortgage banking; specialized services for corporations and government entities, including corporate banking, real estate finance and asset-based lending; wealth management and asset management. Follow @PNCNewson Twitter for breaking news, updates and announcements from PNC.
About MOSI (Museum of Science & Industry)
MOSI is a not-for-profit, community-based institution and educational resource dedicated to advancing public interest, knowledge, and understanding of science, technology, engineering, art and math (S.T.E.A.M.) and is home to the Florida Hospital IMAX® DOME Theatre, the only IMAX dome theater in the state of Florida. MOSI's core ideology is to make a difference in people's lives by making science real for people of all ages and backgrounds. MOSI gives away more than $3 million in free memberships each year, $250,000 in free tickets annually, and approximately 400 scholarships each year for children to attend MOSI Summer Science Camps. Additionally, MOSI's education staff works closely with area teachers offering free training and support for area science educators. With a total size of more than 400,000 square feet, MOSI is the largest science center in the southeastern United States. Learn through play inside Kids In Charge! the largest Children's Science Center in the nation or The Amazing You—a 13,000-square-foot exhibition on health and wellness. Conquer your fears on MOSI's Sky Trail® Ropes Course and Zip Line. Budding inventors can engineer anything imaginable and hold it in the palm of their hand in MOSI's technology playground and inventor's studio, Idea Zone; and aspiring astronauts can travel to the moon to operate a lunar colony in Mission: Moonbase, funded in part by NASA. MOSI is the proud winner of the 2009 National Medal for Museums by the Institute of Museum and Library Services, the nation's highest honor for museums. For more information on MOSI, visit http://www.mosi.org.