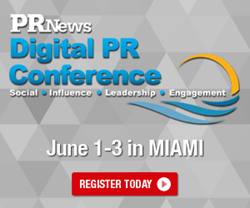 Miami, FL (PRWEB) April 25, 2015
Attendees at PR News' Digital PR Conference in Miami June 1-3 will hear from three keynote presenters whose goal will be to get them to rethink their role as communicators and become digital pathfinders in their organizations.
Jeremy Miller, author of the 2015 book "Sticky Branding: 12.5 Principles to Stand Out, Attract Customers, and Grow an Incredible Brand," will deliver the opening keynote presentation on June 1 at the Ritz-Carlton South Beach. Miller will offer specific recommendations on how PR pros and marketers can become "sticky branding" experts.
Tania Luna, author of the new book "Surprise: Embrace the Unpredictable and Engineer the Unexpected," will be the luncheon keynote speaker on day 2 (June 2). Luna will show communicators how to harness the power of the unexpected for creative and business ends in the workplace, as well as for external brand communications.
Ekaterina Walter, author of the Wall Street Journal best-selling book "Think Like Zuck" and co-author of "The Power of Visual Storytelling," will close out PR News' Digital PR Conference on June 3 by laying out a blueprint communicators can follow to build a brand's online presence with visual, shareable content.
Also on June 3, Ted Coiné, co-author of "A World Gone Social: How Companies Must Adapt to Survive," will be the keynote presenter at PR News' Social Media Icon Awards luncheon, to be held at the Ritz-Carlton South Beach as well.
Attendees can save $100 with the Early Bird rate through May 7. Register online: http://www.prconferencemiami.com.
PR News' three-day Digital PR Conference will feature speakers from the American Cancer Society, American Heart Association, Bright House Networks, Edelman, Finn Partners, GE, Havas PR, Human Rights Campaign, Lockheed Martin, Miami Heat, National Geographic Channel, rbb Public Relations, Revolt TV, Ritz-Carlton Hotel Co., Rock Orange, Royal Caribbean Cruises, Toyota, USANA Health Sciences, Verizon Wireless, Walmart, Zumba Fitness and more.
The three-day event will also include a June 1 morning workshop "How to Make Video Work for Your Brand." PR News has also reserved a special hotel room block at the Ritz-Carlton available through May 10. For more information on the Digital PR Conference and Video Workshop, visit http://www.prconferencemiami.com/.
The Digital PR Conference is sponsored by 3BL Media and Business Wire. To become a sponsor, visit http://www.prconferencemiami.com/sponsors/.
Contact Rachel Scharmann at rscharmann(at)accessintel(dot)com with questions.
PR News is a daily intellectual hub that serves the communications and marketing community at corporations, agencies and nonprofits. The PR News group focuses on honing and growing PR practitioners' skills in social media, crisis management, digital PR, measurement, employee relations, media training, CSR and writing through its flagship newsletter, webinars, conferences, awards programs, workshops and guidebooks. With the launch of its weekly newsletter over 70 years ago, PR News has remained dedicated to supporting the growth of communicators all while keeping them abreast of the latest news affecting the industry. For more information, please visit http://www.prnewsonline.com.