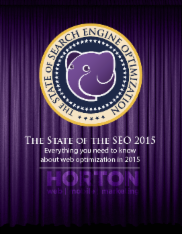 We created this ebook to help businesses succeed online.
Nashville, TN (PRWEB) April 27, 2015
"The State of SEO" ebook by Horton Group is now available at http://www.hortongroup.com. This comprehensive guide to search engine optimization (SEO) provides a clear breakdown of the history of search and where the industry is heading next.
"SEO has been around for more than 20 years and is constantly evolving as search engines adapt to meet the needs of users," said Scott Scrip, Digital Marketing Consultant at Horton Group. "Businesses must remain informed of trends in the industry to stay competitive. That's why we created this ebook - to help businesses succeed online."
"The State of SEO 2015" ebook can be obtained by clicking "download now" on the Horton Group website homepage slider. After which, users will be directed to a landing page where they can submit some brief information about themselves to receive the ebook.
In "The State of SEO 2015," individuals will learn about the beginnings of SEO, the rise of inbound marketing and how remarkable content can be their greatest tool for attracting website visitors. In addition, readers will get actionable takeaways they can immediately implement to boost their online marketing initiatives.
Horton Group is a digital marketing agency in Nashville, TN. The agency provides an expansive selection of inbound marketing and web development solutions to clients in various industries, including nationally recognized brands.
Learn more about "The State of SEO 2015," by visiting http://www.hortongroup.com or by calling Horton Group at (615) 292-8642.