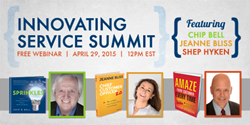 Lambertville, Michigan (PRWEB) April 27, 2015
Weaving Influence will host the Innovating Service Summit webinar on Wednesday, April 29, 2015 at 12 p.m. EST. This free, one-hour webinar will feature discussions led by renowned customer loyalty experts Chip Bell, Jeanne Bliss, and Shep Hyken and other leading customer service thought leaders as they discuss strategies for growing customer advocacy for today's customers by leveraging innovative service strategies. To register for this Innovating Service Summit webinar, visit http://weavinginfluence.com/events/chip-bell-innovating-service-summit/.
The Innovating Service Summit will cover such key areas as:

Adding Surprise Value – Taking what today's customers expect and adding more has gotten pricey. And, the challenge of value-added service is its tendency to elevate customer expectations. Learn the power of value-unique through ingenuity when generosity has reached its financial limits.
Social Media Customer Service – A hot topic for all, Bell, Bliss, and Hyken will share examples of best practices for enhancing the customer experience through a compelling social media strategy that builds and maintains customer relationships.
Delivering Standard Promises to all Stakeholders – The experts will share insights for leadership teams to consider when determining customer service standards. They will provide tips on how to adhere to the commitment of delivering standard promises to all stakeholders.
In addition to Bell, Bliss and Hyken, the webinar will include customer loyalty expert guests Bob Thompson, author of "Hooked on Customers," Steve Curtin, author of "Delight Your Customers" and Dennis Snow, author of "Unleashing Excellence," who will be joining this provocative and practical discussion. This is an hour of power you do not want to miss.
The event, facilitated by Weaving Influence's CEO Becky Robinson, will include special prizes, virtual popcorn, and funny stories shared by the panel.
About the Panelists
Chip Bell
Chip R. Bell is a renowned keynote speaker and has served as consultant or speaker to such organizations as Microsoft, Nationwide, Marriott, American Express, Lockheed-Martin, Ritz-Carlton, Caterpillar, Verizon, USAA, Harley-Davidson and Victoria's Secret. He is the author or coauthor of 20 books including "The 9½ Principles of Innovative Service," "Sprinkles: Creating Awesome Experiences Through Innovative Service," "Take Their Breath Away," "Wired and Dangerous," and "Managing Knock Your Socks Off Service." Dr. Bell has appeared live on CNBC, CNN, Fox Business, CBS, NPR, ABC and his work has been featured in Fortune, Businessweek, Forbes, Wall Street Journal, USA Today, Inc. Magazine, Entrepreneur, WSJ MarketWatch and Fast Company.
Jeanne Bliss
Jeanne Bliss pioneered the role of the customer experience executive, or Chief Customer Officer, as she held the first ever CCO role at Lands' End, Microsoft, Coldwell Banker and Allstate Corporations, reporting to each company's CEO. She now leads CustomerBliss, where she guides the C-Suite and Chief Customer Officers around the world on earning business growth by improving customers' lives. She is a sought after speaker and co-founder of the Customer Experience Professionals Association. Bliss is the author of two best-selling books, "Chief Customer Officer" and "I Love You More Than My Dog." Her third book, "Chief Customer Officer 2.0" is set for release in June.
Shep Hyken
Shep Hyken is the founder and Chief Amazement Officer at Shepard Presentations, where he helps companies build loyal relationships with their customers and employees. He is a customer service expert, an award winning speaker and a New York Times and Wall Street Journal best-selling author. His articles have appeared in hundreds of publications. He is the author of "Moments of Magic, The Loyal Customer," "The Cult of the Customer," "The Amazement Revolution," and "Amaze Every Customer Every Time."
He is also the creator of The Customer Focus program, which helps clients develop a customer service culture and loyalty mindset. His wide variety of clients include smaller companies with fewer than fifty employees to corporate giants such as AT&T, American Express, General Motors, IBM, Kraft, Marriott, Toyota, Verizon and many more. A prolific speaker well known for his content-rich, entertaining, and high-energy presentations, Hyken has been inducted into the National Speakers Association's Hall of Fame for lifetime achievement.
About the Host
Becky Robinson is the CEO and founder of Weaving Influence Inc., a social media consulting and implementation company specializing in helping authors and thought leaders grow their online influence and market their books. Robinson equips and trains a growing team to partner with and serve top-level clients.
She also formed Team Buzz Builder, a supportive community of bloggers that she mobilizes on behalf of authors. Robinson is the author and creator of several e-books, including "12 Minutes to Change Your Day," "Training for LinkedIn Success and 31 Days of Twitter Tips: Grow Your Online Influence," "12 Minutes at a Time."