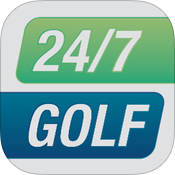 Prescott, Arizona (PRWEB) April 28, 2015
The 24/7 GOLF app from GOLFstats.com provides complete Golf History, Results and Records for:

All tournaments and Majors on the PGA TOUR, the European Tour, the Champions Tour and the LPGA, including the PGA TOUR back to 1970, the Champions Tour back to 1990, the European Tour back to 1990, and the LPGA back to 1963
All Men's, Women's and Senior Majors. For the Men's Majors, we provide The Open Championship (British Open) back to 1946, The Masters entire history back to 1934, the U.S. Open entire history back to 1895, and the PGA Championship entire history back to 1916. Cumulative records are also provide for all Men's Majors, Women's Majors, and Senior Mens Majors include lowest rounds, lowest totals, most victories, and more.
All total we have coverage of over 520 tournaments!
24/7 GOLF also provides complete information, results and records for over 6800 players (male and female players, including seniors, from around the world). For each player we provide their career summaries, results per year, results in individual tournaments, and their cumulative records (best rounds, best finishes, victories, etc) for their career.
24/7 GOLF is also the perfect companion app for watching golf on TV.
This one of a kind app is available for iPhones and iPads via the Apple App Store, for only $4.99 per year (in-app purchase). Android version is coming soon!
For more info, visit http://www.247GolfApp.com, or search for '24/7 GOLF' in the Apple App Store.