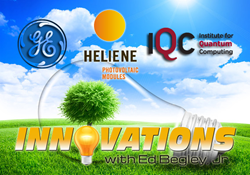 Jupiter, FL (PRWEB) May 18, 2015
DMG Productions announces the upcoming airing of Innovations with Ed Begley, Jr., scheduled to broadcast on Monday, May 25, 2015 at 7:30 a.m. ET and 7:30 a.m. PST, via Discovery Channel.
Innovations will take a look at GE Lighting, and the impact their products and services have in the world of lighting solutions and technology. Learn about how a fundamental paradigm shift toward more efficient lighting technologies will significantly reduce global electricity demand for general illumination in the next few years.
The show will also feature Heliene, a global, premium quality manufacturer of the highest efficiency mono-crystalline solar modules. Viewers will learn how by utilizing anti-reflective patterned glass, which provides increased performance during critical non-peak hours, Heliene modules can achieve outputs up to and above 310Wp per module.
Next, the show will explore the Institute for Quantum Computing, a scientific research institute at the University of Waterloo. The research happening at The Institute for Quantum Computing harnesses the quantum laws of nature in order to develop powerful new technologies and drive future economies. Audiences will be educated on how theorists at The Institute for Quantum Computing are exploring the deepest questions of quantum computing, in areas such as complexity theory, quantum algorithms, quantum error correction, and the fundamentals of quantum mechanics.
"These technologies are truly remarkable," said Robert Sikich, Producer for Innovations. "The episode is jam-packed with exciting educational information."
About Innovations & DMG Productions:
Innovations, hosted by award winning actor Ed Begley, Jr., is an information-based series geared toward educating the public on the latest breakthroughs in all areas of society. Featuring practical solutions and important issues facing consumers and professionals alike, Innovations focuses on cutting-edge advancements in everything from health and wellness to global business, renewable energy, and more.
DMG Productions (responsible for creating the Innovations show) includes personnel specialized in various fields from agriculture to medicine, independent films to regional news and more. Our field producers work closely with experts in the field to develop stories. This powerful force enables us to consistently produce commercial-free, educational programming that both viewers and networks depend on.
For more information visit: http://www.InnovationsTelevision.com or contact Robert Sikich at (866) 496-4065 x 805 or via email at Robert(at)InnovationsTelevision(dot)com.