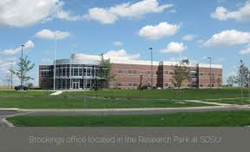 "The new office with be the first of many important changes for our company in 2015."
Sioux Falls, SD (PRWEB) April 27, 2015
EarthBend, a leading provider of technology solutions in the US & Canada announced today that they are opening a new office in Brookings, South Dakota. The new office, located in the Research Park at South Dakota State University, will be the company's 3rd office. The new location will enable EarthBend to support existing local businesses with local resources. They hosted a Ribbon Cutting on Thursday April 23rd at 4pm with the Brookings Chamber of Commerce.
"The opening of EarthBend's new Brookings location is an important step in providing local support to Brookings based businesses and partnering with South Dakota State University. Said CEO Rob Beyer. "The new office will be the first of many important changes for our company in 2015."
The company has future plans to partner with South Dakota State University students to expand their service and support offerings. EarthBend will be hosting seminars, trainings and networking events at the Research Park on a regular basis with the first event scheduled for next month featuring experts in IT security, in addition to providing local support for customers.
For more information about EarthBend and its new Brookings office, visit http://www.EarthBend.com or call
605.789.5700
About EarthBend
EarthBend has been a trusted information technology provider across the US & Canada for over 32 years. Locally owned and operated in Sioux Falls, SD and employing 67 technology professionals who support customers in the Midwest and across the United States. EarthBend provides leading edge technologies, local engineers for on-site consulting and support, and competitive pricing through its national reach. Their experienced team can provide businesses with IT computing, data storage, business phones and networking. With three decades of experience, EarthBend's proven methodologies and full suite of consulting, support, and managed services can support your organization whether big or small. Every EarthBend account executive and engineer commits to ongoing education, certification and training in order to provide the best consultation, design, implementation and support for businesses.