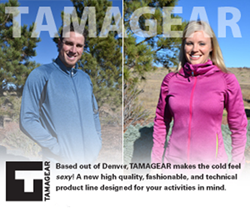 This is a great way for other drivers to make extra money and support a local business
Denver, Colorado (PRWEB) April 27, 2015
DENVER—Colorado outdoor sports apparel company TAMAGEAR is the first Colorado company to become the next Uberpreneur and Lyftpreneur. Uber and Lyft drivers are more than drivers – as independent contractors they can be salespeople as well. The Founder and President of TAMAGEAR picks up passengers using Uber and Lyft. He's decked out in a TAMAGEAR jacket and puts TAMAGEAR magnets on the sides of his car. If passengers comment on his merchandise, he shares information about his apparel line.
"I never pressure them," says Dean Dormady, Founder and President of TAMAGEAR. "But, it's amazing how many people tell me how much they like the product line. It's been a great way to get people to 'browse' in a unique setting. They can see the quality and design up close for themselves and they take notice."
TAMAGEAR produces outerwear for the technical, active, and mountain lifestyles. "It's what we do!," Dormady says. It is designed with the advantage of a highly fashionable, and extremely technical utility for the everyday adventurer and the rugged, active and backcountry enthusiasts alike. They create, design and develop the highest quality products with technical utility, while inspiring sustainable actions that benefit our habitats and environment around the world.
Dormady hopes other Uber and Lyft drivers will come on board. He can give each driver a promo code that gives him or her 20 percent for each sale he or she makes.
"This is a great way for other drivers to make extra money and support a local business," Dormady says.
Dormady isn't the first company to develop this concept. According to Forbes, one Uberpreneur in California makes $252,000 a year selling his jewelry while he drives and having other drivers sell his jewelry.
"I know we've created the best mid-layer jacket in the market," Dormady says. "We just need regular Colorado passengers to see our product. Once they do, they'll love our line. We hope to build branding and consumer awareness and offer Uber and Lyft drivers something in return for their efforts."
Tamagear's mission is to create, design and develop the highest quality products for the active lifestyle, and inspire sustainable actions to benefit endangered species and habitats around the world. View the official press release here!