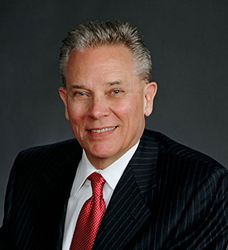 Lynchburg, VA (PRWEB) April 23, 2015
O.S. Hawkins, president and chief executive officer of GuideStone Financial Resources of the Southern Baptist Convention, will deliver the keynote Baccalaureate address at Liberty University on Friday, May 8, 2015, as part of the 42nd Commencement activities. The service will take place at 6 p.m. in the Vines Center.
With more than $13 billion in assets, GuideStone is the largest Christian-based mutual fund in the world, serving more than 250,000 individuals from churches, missionary organizations, colleges and universities, hospitals, and other nonprofit institutions with their financial and benefit service needs. Prior to Hawkins' tenure at GuideStone, which began in 1997, he served as senior pastor for First Baptist Church in Dallas (1993-97), senior pastor of First Baptist Church in Fort Lauderdale, Fla. (1978-93), First Baptist Church of Ada, Okla. (1974-78), and First Baptist Church of Hobart, Okla. (1972-74).
Hawkins has been named Clergyman of the Year by the Religious Heritage of America and was elected by his peers as president of the National Southern Baptist Pastors' Conference. He is also the author of more than 30 books, including the best-selling "The Joshua Code" and "The Jesus Code."
A native of Fort Worth, Texas, Hawkins holds a bachelor's degree in business administration from Texas Christian University, a master of divinity from Southwestern Baptist Theological Seminary, and a doctor of ministry from Luther Rice Seminary. He has received several honorary doctorate degrees from institutions, including Dallas Baptist University, Southwest Baptist University, and The Criswell College.
He has been married to his wife, Susan, for 45 years. They have two daughters, two sons-in-law, and six grandchildren.
About Liberty University
Liberty University, founded in 1971, is the largest private, nonprofit university in the nation, the largest university in Virginia, and the largest Christian university in the world. Located near the Blue Ridge Mountains on more than 7,000 acres in Lynchburg, Va., Liberty offers more than 450 unique programs of study from the associate to the doctoral level. More than 200 programs are offered online. Liberty's mission is to train Champions for Christ with the values, knowledge, and skills essential for impacting tomorrow's world.