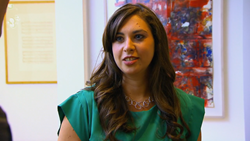 There is a rising awareness of the potential value of art, antiques and memorabilia.
New York, NY (PRWEB) April 24, 2015
New York Fine Art Appraisers (NYFAA) announces the appearance of Danielle Rahm, Managing Director, on season 4, episode 2 of Bravo's Million Dollar Listing New York. She appears alongside cast member Ryan Serhant, as he faces the challenge of selling the Tribeca apartment and 400-piece art collection of his boss, Nest Seekers International CEO Eddie Shapiro.
The episode, which aired April 22, 2015, features Rahm as she steps in to help Serhant by appraising the collection acquired by Shapiro, 400 artworks by Contemporary artist Louis Kunsch. While Serhant and Shapiro have high hopes for finding a treasure trove, Rahm advises that the art is worth only a few hundred dollars each, with much of the value in the framing.
The interest and demand for on-camera appraisals has grown steadily in the past decade. Rahm explains that the demand has been "fueled by programs such as Antiques Roadshow and Pawn Stars, as well as high-profile record breaking auction results." She adds that "even amongst non-collectors, there is a rising awareness of the potential value of art, antiques and memorabilia. Perhaps it's that painting in the closet passed down by a grandparent or purchased at a thrift shop for ten dollars." As such, she expects requests for television appearances to continue to increase.
ABOUT NYFAA:
New York Fine Art Appraisers is one of the leading independent appraisal and advisory firms of the fine and decorative arts in the country, with offices in New York, Los Angeles and Palm Beach. They provide a full range of professional valuation, consulting and collection management services tailored to meet the needs of both private and corporate collectors and non-profit institutions in the United States and abroad. Recent projects include the appraisal of the art at Rockefeller Center, 2,200 fine art photographs for the United States Secret Service, and the appraisal and liquidation of an important Old Master paintings collection at Sotheby's, New York on behalf of a West Coast estate.