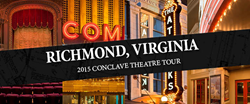 Conclave Theatre Tour is an opportunity for us to focus a national and international spotlight on communities where historic theatres are valued and are a dynamic part of their neighborhood.
Elmhurst, IL (PRWEB) April 29, 2015
Theatre Historical Society of America will visit historic theater gems in Washington D.C. and Virginia, including Richmond, Highland Springs, Hopewell, Charlottesville, Staunton, Norfolk, Waynesboro, Williamsburg and Portsmouth to name a few of the stops on the Conclave Theatre Tour 2015.
For 45 years THS Conclave Theatre Tours have brought preservationists, theatre managers, archivists, and amateur and professional enthusiasts together for in depth tours of historic theatres. From 23 - 27 June approximately 100 Theatre Historical Society of America members will visit over 20 properties in the Virginia and Washington D.C. area. Theatre styles Conclave 2015 will visit range from the 18th Century Colonial Kimball Theatre in Williamsburg and the Tudor Blackfriars Playhouse in Staunton, to the Commodore Theatre, 'a luxuriously restored 1945 Art Deco motion picture theatre' in Portsmouth and the Howard and the National Theatre in Washington D.C.
Attended by participants from the U.S., Canada, England, Ireland, Australia and New Zealand, the annual Conclave Theatre tours offer the opportunity for theatre lovers from around the globe to experience architecturally significant cities across America through the lens of their theatres. "We have been planning theatre tours for a long time but this is the first time we will be headquartered in historic Richmond. Virginia is beautiful, majestic and has played such an important role in the history of America. Our attendees will be fascinated by the theatres and equally enthralled by the splendor of the region." - Richard Fosbrink, THS Executive Director
Along with the wide variety of architectural styles studied on THS's Conclave Theatre Tour, participants will gain firsthand experience of the management and programming used to make these theatres dynamic additions to their communities. Conclave Theatre Tour 2015 will help THS celebrate the success of participating historic theatres while promoting their importance as economic and cultural assets in Virginia area communities.
ABOUT THS: Founded in 1969 by Ben Hall, the Theatre Historical Society of America (THS) celebrates, documents, and promotes the architectural, cultural and social relevance of America's historic theatres. Through its preservation of the collections in the American Theatre Architecture Archive, its signature publication Marquee™ and Conclave Theatre Tour, THS increases awareness, appreciation and scholarly study of America's theatres.
ABOUT THE THS COLLECTIONS AND THE WILLIS & SHIRLEY AND CLASSIC CINEMAS RESEARCH & EDUCATION CENTER: Visitors to the Willis & Shirley Johnson and Classic Cinemas Research & Education Center at the Theatre Historical Society of America have the opportunity to explore in the greatest theatre architecture-related archive of its kind, the American Theatre Architecture Archive (ATAA).
The collections housed in the ATAA contain information on over 16,000 theatres (both domestic and international) and span nearly every style and period of theatre architecture. Composed of photographs, negatives, slides, postcards, artists' renderings, scrapbooks, books, periodicals, business records, blueprints and architectural drawings, supplier and trade catalogs, architectural artifacts, theatre furnishings, ushers' uniforms, and numerous other items, the collections exist to document and preserve the cultural and social history of America's theatre buildings. Find out more and explore our collections online at historictheatres.org/archival-collections.