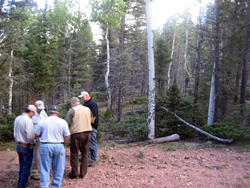 Centennial, Colorado (PRWEB) April 27, 2015
Adequate funding is a hurdle many companies and organizations face when upgrading to new tools and technology. Fortunately in the forestry and natural resources sectors, there are opportunities to acquire funding directly or collaborate in mutually beneficial projects paid for in whole or in part by grant funds. Laser Technology, Inc., (LTI) is hosting a Forestry and Natural Resources funding webinar on Thursday, May 14, 2015 10:00 AM (MDT), to guide representatives from nonprofit organizations, businesses, development communities, agencies, and private landowners through the process of obtaining funding. All webinar attendees will be eligible to receive a 1.0 hour, Category 2, Society of American Foresters Continuing Forestry Education credit.
Actively managing forested lands can not only improve overall forest health and habitat, but can also provide the resources necessary to efficiently produce goods. Projects that work to do both of these things make them very attractive for funding awards in the forestry industry. As an awardee, project costs can be offset, leaving other funds available to use to grow a business and update technology. With the challenge of unmarketable trees in many areas where work must get done, creativity and resourcefulness in wood utilization solutions are vital, and help win funding.
This webinar will be cohosted by Kassie Carley, LTI Solutions Product Manager and Tim Reader, Colorado State Forest Service Utilization & Marketing Forester. Kassie and Tim will share their experiences and expertise about where to look for grants and funding, tips on how to apply, and ways to make your application stronger. The webinar will also clarify the mystery of matching funds that some grants may require. Funding opportunities are not always limited to nonprofits organizations. Join LTI to discover ways that for-profit businesses can get involved.
Kassie Carley is also presenting at a panel session on grant funding at the Society of American Foresters 2015 Joint Annual Meeting, on May 8. This webinar will feature the Q&A portion from the panel, allowing webinar attendees to find out what questions their peers had about funding opportunities. Throughout the webinar, participants will also be able to ask questions to the presenters through chat.
The webinar will also feature laser-based measurement equipment that can be purchased grant funding or with money you save by getting involved in grant projects that offset other business costs. LTI's TruPulse laser rangefinder series has a variety of lasers for different applications, from the low cost 200L with multiple height solutions, to the top-of-the-line 200X model with centimeter accuracy. In addition to rangefinders, LTI provides professionals with complete solutions for tasks such as taking inventory of whole logs, finding the volume of a chip or biomass pile and timber cruising. Visit LTI's Professional Measurement page to learn more.
With all of the recent advances in technology and with all of the funding available, it's time to discover ways to make your work safer and more efficient. Let LTI provide tips on how and where to acquire funding and learn how our laser-based measurement equipment can work for many applications during the Forestry and Natural Resources Funding webinar on Thursday, May 14, 2015 10:00 AM MDT.
About the Speakers
Tim Reader, who holds a Master's degree in Forestry, and a Bachelor's Degree in Wood Science and Technology, has been with the Colorado State Forest Service for 13 years. He is responsible for delivery and administration of the Colorado Wood Products and Utilization Program. Previously, he worked as an Inventory Forester with the White Mountain Apache Indian Tribe in White River, Arizona, and as a wood products quality control technician for Dyno Polymers in White City, Oregon.
Kassie Carley LTI's Solutions Manager, brings real-world, market specific solutions to professionals through laser measurement and mapping software. Before working at LTI, Kassie co-managed a forestry company for eight years, specializing in seeking and applying for funding opportunities. Kassie, the third generation of a forestry and milling family, has sought out and was directly and indirectly awarded $2 million in funds for ForestWise, LLC, development communities, agencies, and private landowners.
About LTI
Laser Technology, Inc., has been a pioneer in the laser measurement industry for over 28 years with field data collection and mapping applications for mining, forestry, telecommunications, construction, government, GIS and more.