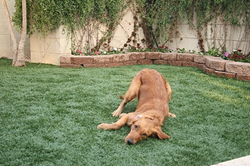 "Our K9 product is specifically designed to meet the demands of dogs, and it is the best pet grass on the market. At the Expo, we'll be able to illustrate why our system is better than the rest, and we can show how much dogs love our product, too."
Atlanta, GA (PRWEB) April 27, 2015
ProGreen Synthetic Grass will be supplying artificial grass for the Dallas Pet Expo to use in their activity course. The expo will take place at Dallas Market Hall on Saturday, May 9, 2015 from 10 a.m. to 6 p.m. With this 2,250 square foot donation, ProGreen has become the official turf provider of the event.
"We are delighted to partner with the pet expos," said John Bogosian, COO of ProGreen. "Our K9 product is specifically designed to meet the demands of dogs, and it is the best pet grass on the market. At the Expo, we'll be able to illustrate why our system is better than the rest, and we can show how much dogs love our product, too."
Whether for dog runs, kennels or the yard, synthetic grass is the ideal material for dogs. It does not require mowing and eliminates any issues associated with mud or sod. Dog urine will not kill artificial grass nor will it leave brown spots all over the yard. ProGreen synthetic grass is the best grass available for dogs because of their exceptional drainage systems. ProGreen utilizes a proprietary blend of crushed rock to keep the turf dry and odor free, and they also offer the Shark Drainage Blanket, which is the most aggressive drainage system for areas that experience heavy rainfall or have a slope less than 2%. Both of these systems offer maximum odor control.
In addition to providing the turf for the activity course, ProGreen will be an exhibitor at the show. There will be a ProGreen dealer on hand to answer questions as well as provide more information about the product on display, the K9 system, the Shark drainage blanket and the wide variety of other synthetic grass products that ProGreen offers. Be sure to visit ProGreen at booth 140.
For more information about ProGreen, call 1-888-440-7888 or visit http://www.progreen.com.
About ProGreen
ProGreen Synthetic Grass is the nation's premier supplier of high quality artificial turf. Their artificial grass products are ideal for lawns, dog runs, putting greens, athletic fields, playgrounds, child care facilities and more. With two manufacturing plants in the US, all of the company's products are 100% made in the USA from start to finish. They are the only American synthetic turf company that can make that claim. For more information about ProGreen, visit http://www.ProGreen.com or call 1-888-440-7888.