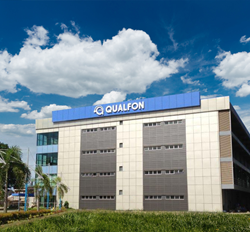 We showed the client how we could act on their needs and accelerate the plan into action.
(PRWEB) April 27, 2015
Qualfon, a people-driven business process outsourcing (BPO) company and global provider of contact center services, has earned a new client in the retail industry with its ability to quickly launch successful customer service programs. An international producer and retailer of consumer goods recently selected Qualfon as its partner for customer service in Dumaguete, Philippines because Qualfon could implement contact center services on a tight turnaround and help the retailer meet peak customer demands during the Valentine's Day holiday.
In just two weeks, Qualfon launched the inbound customer service program, which helps consumers place orders, purchase goods, redeem coupons and discounts, and personalize gifts for delivery. The program started on February 1st and was designed to ramp up and down very quickly alongside the retailer's seasonal demands. "With talented employees who had previous experience with this client and Qualfon's first-class location, we were able to demonstrate operational expertise and deliver a high-speed program without sacrificing quality," said Steve Brown, VP & General Manager, Qualfon Philippines. "We showed the client how we could act on their needs and accelerate the plan into action."
But, implementation isn't the only result that was fast acting. After just one month in operation, Qualfon's performance is comparable to the level of service that is currently provided by the retailer's internal contact center in the USA. Plus, Qualfon is shining among other BPO companies that have been providing customer service for the retailer for many years. "With this account, Qualfon has some very tenured competition, but we're performing extremely well. In a short period of time, we are already competing for the top spot on the scorecard, which cross-compares all of the retailer's BPO partners and performance in one view," explained Keith Encarguez, Sr. Shift Manager at Qualfon Dumaguete, who is leading the program.
Brown attributes Qualfon's quick-launch success and fast-track performance to the result of three key elements: Qualfon's experience in the retail industry, program managers rapidly addressing opportunities and improving, as well as having a true partnership in the new client relationship. "Our new client worked collaboratively with us in making this a success. They did an outstanding job of joining forces with us, staying actively involved in our project, and participating in the training and kickoff at the Qualfon contact center," added Brown.
As the program matures, Qualfon continues to strengthen its position in the retail industry, and program leaders believe Qualfon's services will become even more valuable to the client as holidays create additional surges in customer demand. "With our state-of-the-art contact center, Qualfon has a strong presence here in Dumaguete, which is a city that is already known as a great talent pool for BPO services. But even better, Qualfon is recognized for low employee attrition rates of 4.59% on average in this market, which enables us to deliver high-quality services at lower prices. Our client recognizes this value and sees us as a critical component in helping them create exceptional customer experiences at times of peak demand," said Brown.
ABOUT QUALFON
Qualfon is a people-driven business process outsourcing (BPO) company and a global provider of contact center services and back-office processing. With experienced BPO leadership and a strong track record of business growth dating back to our founding in 1995, Qualfon helps companies reduce costs and deliver superior customer experiences. Today, we have 11,000 employees serving international brands across many industries, and our intelligent outsourcing locations span the United States, the Philippines, Guyana S.A., Mexico, and China. Qualfon's mission to "Be the Best BPO, Make People's Lives Better" means we invest in our people and, in return, they take better care of you and your customers. Qualfon's employee retention is twice the industry average, which creates a people-driven value chain: Our employees stay longer, providing you a higher quality service at a lower price.