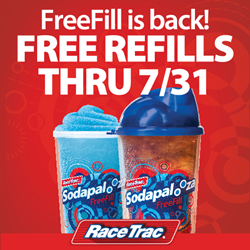 Sodapalooza FreeFill is a fan favorite we offer our loyal TracFanatics to help them beat the summer heat.
Atlanta, GA (PRWEB) April 29, 2015
Drink up and cool down this summer at RaceTrac during Sodapalooza FreeFill 2015! This celebration has officially kicked off in all RaceTrac stores and is sure to have everyone asking 'Where'd the bottom go?' Guests can purchase a limited time only Sodapalooza FreeFill cup for $7.99 and enjoy free fountain and frozen beverage refills through July 31!
As if free fountain and frozen beverage refills weren't enough to tempt guests to join the fun, this year's cup will also include even more great coupon offers inside like a free donut, breakfast sandwich and roller grill item.
"Sodapalooza FreeFill is a fan favorite we offer our loyal TracFanatics to help them beat the summer heat," said Dayna Reed, RaceTrac's Director of Promotions. "For 2015, we've added even more value by including additional coupons for our guests to enjoy while filling up with their favorite beverages this summer."
RaceTrac's fountain and frozen beverage selection varies by store, with most stores boasting 30 fountain drinks, including Coca-Cola, Dr. Pepper and Pepsi products, and at least eight frozen beverages, with Coke, Fanta and Dr. Pepper flavor options. With so many options to choose from, guests are sure to 'go back for forty-thirds!'
Guests are invited to follow RaceTrac on Facebook, Twitter, Instagram and join RaceTrac Insider for Sodapalooza news, as well as giveaways and coupons throughout the year.
About RaceTrac
Headquartered in Atlanta, Georgia, RaceTrac has been serving guests since 1934 and now operates more than 380 convenience store locations in Georgia, Florida, Louisiana and Texas. In January 2012, RaceTrac introduced its new 6,000 square foot store design, featuring 24 hour Swirl World frozen yogurt, an expanded coffee bar, fresh salads and sandwiches and up to 24 fueling stations to satisfy the needs of its guests. While operating under the mission to make people's lives simpler and more enjoyable, the company has been named a top workplace by the Atlanta Journal-Constitution (2011 - 2015), the Tampa Bay Times (2013-2015), the Jacksonville Business Journal (2014), the South Florida Business Journal (2012), the Orlando Business Journal (2011, 2013) and the Dallas Business Journal (2009 – 2010, 2013), as well as recognized on Forbes list of largest private companies (1998 - 2014) and Financial Times' 2013 Hot 100 Retailers. Convenience Store Petroleum named Carl Bolch Jr. "Retailer of the Year" in 2009 and Convenience Store News has honored RaceTrac on the Top 100 Convenience Stores list (2003 – 2013), Top 20 Growth Chain list (2013) and as Retail Innovator of the Year (2012). In 2014 Convenience Store News named RaceTrac CEO Allison Moran as a "Woman of the Year." In 2014, Convenience Store Decisions named RaceTrac as its "Chain of the Year." For more information, visit RaceTrac on Facebook, Twitter, Instagram, Web and LinkedIn.