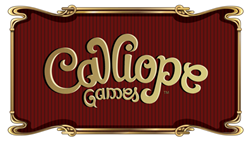 Campaign backers will not only receive a limited time savings, but will also work alongside Calliope Games to create the Titan Series line of games.
Redmond, WA (PRWEB) April 24, 2015
Calliope Games announced today a campaign on Kickstarter, a global crowdfunding platform, for their Titan Series game project. Campaign backers will not only receive a limited time savings, but will also work alongside Calliope Games to create the games. From honing rules, choosing themes and artwork, and voting on content and titles for the series, backers will be an integral part of the development process. The Titan Series games will be launched over the next three years and will include a wide variety of games including a board game, dice game, word game, party game, card game, strategy game, and more.
The Titan Series is a line of casual, family-friendly tabletop games by some of the world's best game designers including Richard Garfield, Jordan Weisman, James Ernest and Peggy Brown. Each game will be playable in 60 minutes or less and are designed for ages 8 and up. Their names may not be well known, but their games have helped ensure the survival of local toy and game shops across the country. Some of those games include Buzzword, Magic: The Gathering, Shadowrun, Dice Masters, HeroClix, Unexploded Cow, Pairs, Smash Up, and Q•bitz. Additional designers from across the globe will be announced as Kickstarter campaign goals are met.
"Calliope's goal with the Titan Series is to pull families from their screens and bring them back to the table. We want our games to inspire fun and camaraderie—moments that families will remember for a lifetime," says Ray Wehrs, president of Calliope games. "With the help of our backers, we're confident the Titan Series will deliver great experiences in the form of these games—not to mention the fun of helping shape the Titan Series every step of the way. "
Those interested in being a part of the Titan Series must back the Kickstarter campaign prior to May 30, 2015 at 7:00 PM PDT.
About Calliope Games
Calliope Games publishes family-friendly tabletop games, including Tsuro and Roll For It!. Calliope games are:

Carefully crafted so kids and adults can play on equal footing
Playable in sixty minutes or less
Designed for 2-8 players
Affordable; most games retail for $30 or less
Fun for folks of all ages
For more information about the Titan Series Kickstarter campaign, contact Lisa McKendall at 310-641-1556, or Cassidy Werner at 425-443-5352.