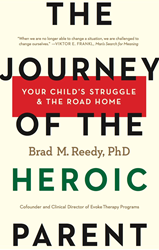 Parents always asked me the same question, "What do I do with my struggling child?" I soon learned they were asking the wrong question.
New York, NY (PRWEB) May 05, 2015
The newly minted Regan Arts has just released a unique self-help book based on the experiences of Dr. Brad Reedy from his 20 years working in the field of wilderness therapy.
When Judith Regan was asked why she chose to publish a parenting book and why this one, she replied, "What resonates with me as a parent (and publisher) is the idea that it is a journey, not a destination...that the question is not the question...that we and our children are on the trek sometimes together and sometimes not...that each of our struggles is unique. What I loved about this book is that it gives us the tools we need but without preaching. It's more of a philosophical idea with inspired wisdom for how to be a better human being."
As Clinical Director for Evoke Therapy Programs and a parent educator, Dr. Reedy has helped thousands of families with children struggling with mental health issues, addictions, depression, suicidal thoughts, eating disorders, or just the normal angst of growing up. "This can be frightening and overwhelming for families," says Reedy. "My job is to help replace their anxiety and confusion with clarity, insight, and empowerment."
"Parents have been asking me for years to write a parenting book," stated Dr. Reedy. "I considered this and realized I had my story and the story of the thousands of families with whom I worked to draw from. Parents always asked me same question, 'What do I do with my struggling child?' I soon learned they were asking the wrong question. Parents needed to stop asking 'what' do I do, and instead ask 'why.' Different from offering advice on what to do, my approach teaches parents how to think about the way they parent by asking questions that help them to know their motivations, intentions and boundaries. Instead of learning another theory or reading another advice book, I want to teach them to become the expert on themselves."
Rick Heizer, Co-Owner of Evoke Therapy Programs states, "What I learned from Dr. Reedy's book is that principle of the 'heroic' parent is to move away from the idea of making my life about my child's success to more about making my peace and serenity my project. Dr. Reedy continues, "Good parenting is good living. Hence, the result of good parenting isn't well-behaved children but rather a healthier and less anxious life for the parent. And ironically, being in this state of peace and serenity is the only chance you have of impacting your children in a positive way. It's control vs. influence. And that's the shift I ask parents to make."
Mother of four kids, Dawn Hansen stated, "Dr. Reedy's book made me think about how I approach situations not only with my kids but in all my relationships. I hadn't realized how much the family I grew up in affected me. It helped me understand why I react the way I do and how that impacts everyone around me and how I can try to be 'heroic' by knowing myself and parenting from a place of clarity."
"Becoming a better parent means becoming a better, more enlightened and aware person. That's the journey. The heroic part is being willing to be vulnerable in this process," states Reedy. Dr. Harriet Lerner, relationship expert and author of the bestselling book The Dance of Anger, says Reedy is a "gentle, authentic and wise guide. He invites us to become better people on the royal road to becoming better parents."
"Most of the kids and families I work with struggle deeply," says Reedy. "But I believe that these principles apply to anyone interested in the pain, difficulty, joy and success that comes from being a parent of any child."
Miles Adcox, CEO of Onsite, a therapeutic and personal growth program, states, "I'm on the front lines daily with the codependency and emotional trauma families are experiencing and believe this work is a must-read for any parent. Far too many parents are torn apart by not having the tools Dr. Reedy provides."
People interested in ordering Dr. Reedy's book can go to Amazon or wherever books are sold. Those individuals interested in learning more about Evoke Therapy Programs can visit evoketherapy.com.
About Dr. Brad Reedy
Dr. Brad Reedy is cofounder and clinical director of Evoke Therapy Programs and has been in the mental health field for over 20 years. An experienced psychotherapist and public speaker, he leads seminars on parenting, addiction, and mental health for professionals and clients. He has served on the boards of the Utah Department of Child and Family Services and the National Association of Therapeutic Schools and Programs.