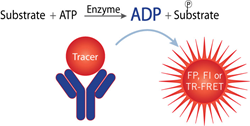 Madison, WI (PRWEB) April 25, 2015
Join us for a webinar at 12 pm EDT on April 29th: Analyzing Kinase Inhibitor Residence Times using the Transcreener® ADP Assay
Analysis of inhibitor residence times is increasingly being incorporated into lead development efforts because longer engagement with the target can result in improved efficacy, increased therapeutic window and reduced side effects. Though residence time can be determined using immobilized ligand methods such surface plasmon resonance, conjugation of drugs can affect their binding. In this webinar, we will describe a "jump dilution" approach for measuring residence time for protein kinase inhibitor drugs using the Transcreener® ADP Assay to continuously monitor the recovery of enzyme activity as the inhibitor compound dissociates from the kinase. A longer residence time causes a slower recovery of activity. Transcreener is the only kinase assay method that allows direct, continuous detection of ADP formation, enabling facile incorporation of residence time and other kinetic measurements into routine secondary screening.
In this webinar you will learn:

How the Transcreener HTS platform enables direct, homogenous detection of ADP and other nucleotides.
An overview of drug residence times as a parameter for lead development.
How to employ the jump dilution method to measure kinase inhibitor dissociation rates using the Transcreener® ADP assay.
Kinetic data analysis considerations and methods.
After registering, you will receive a confirmation email containing information about joining the webinar.
About BellBrook Labs. BellBrook Labs is dedicated to accelerating drug discovery and biological research by providing innovative high throughput screening solutions for enzymes and phenotypic assays. The company's Transcreener® HTS enzyme assays, used by all of the major pharmaceutical companies, make it easy to screen thousands of different enzymes, including validated targets like kinases, as well as emerging targets like ATPases, GTPases, methyltransferases, and glycosyltransferases. The iuvo™ Microconduit Array technology and assay screening service is a line of unique microscale devices for miniaturization and automation of advanced cell models that are more representative of human physiology.