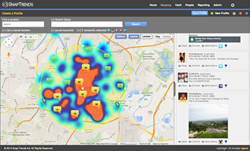 We are extremely pleased to be attending the 2015 IAHSS Conference in St. Louis.
(PRWEB) April 24, 2015
Snaptrends, the world's foremost location-based social media intelligence platform, is proud to announce that it will be attending the International Association for Healthcare Security & Safety (IAHSS) Conference in St. Louis, Missouri, from May 3rd through the 6th. The IAHSS Conference, being held at the Hyatt Regency at the Arch, is the premiere gathering for professionals involved in security and safety programs for the healthcare industry and is designed to showcase the latest innovations and technologies for healthcare security, safety, and emergency management.
Attendees can schedule an onsite demo that will feature a personalized walkthrough of how this innovative technology platform can be used to promote and safeguard their interests by calling 512-716-8410. Social media is a powerful force in today's world, and
monitoring the ongoing conversations within social media is crucial to the welfare and
security of healthcare organizations.
Snaptrends is a powerful, but easy to use, tool that enhances the efforts of healthcare
groups to address patient and employee safety, facility security, emergency response, and
loss prevention. By sifting through ten times more geo-specific social content than any
other platform on the market today, Snaptrends allows healthcare organizations to
harness the power of social media through a number of methods that include hashtags,
geographic locations, keywords, and user handles.
Jeff Croson, Senior Vice President of Sales and Marketing for Snaptrends, says, "We are
extremely pleased to be attending the 2015 IAHSS Conference in St. Louis. The safety
and security issues faced by healthcare facilities and organizations seems to escalate with
every year, but Snaptrends allows our clients to monitor the vast scope of social media
and identify potential issues quickly. We're excited to demonstrate to all IAHSS attendees
the power and versatility of Snaptrends, and to illuminate how users can easily learn the
platform and utilize it to its full potential."
About Snaptrends
Snaptrends takes you inside the conversation, strips away the noise and illuminates the
social media relevant to your business, organization or community. This information
builds a clear view of social conversations when and where they unfold, the influencers
driving those conversations, and why; ultimately giving you the ability to make more
informed decisions and take more effective actions.
Founded in 2012, Snaptrends is a private company tucked in "Silicon Hills," the rolling
hills surrounding Austin, Texas. At the intersection of two hot industries – cloud-
technology and social media, Snaptrends is the leading provider of location-based social
insights to organizations worldwide.
###
For Media Contact:
Leslie Stafford
NanoPlanet
Post Office Box 17107
Aspen, CO 81611
email: leslie(at)nanoplanet(dot)biz
direct line: 970-389-0932 or 970-429-4993