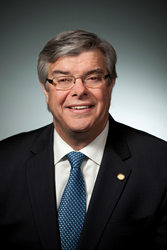 "Change is a needed character that ensures our ability to deliver for our members. It is the dynamo that provides the opportunity for future generations and embraces the energy of new ideas while driving us toward success," said General President Wise
Washington, D.C. (PRWEB) April 24, 2015
Walter W. Wise, General President of the Iron Workers, announced his retirement, effective July 1, 2015. The Iron Workers General Executive Board unanimously elected General Secretary Eric Dean to succeed Wise in finishing his term.
Mr. Wise's tenure as General President was framed by the drive to represent ironworkers in the workforce and to expand growth for them in the construction industry. As he leaves his post, the Iron Workers are recognized as one of the safest, most knowledgeable and hardest working skilled labor forces in North America.
The Iron Workers "must always strive to be better; to grow and deliver safer, better lives for future generations of ironworkers," Mr. Wise said in a letter to Iron Workers. "Change is a needed character that ensures our ability to deliver for our members. It is the dynamo that provides the opportunity for future generations and embraces the energy of new ideas while driving us toward success."
Eric Dean, the current General Secretary, expects the Iron Workers to continue the growth that was accelerated under Walter Wise's term as General President.
"I will double my efforts to keep the Iron Workers strong, growing and a leader in the industry," Mr. Dean said in an announcement of Wise's retirement. "It is an awesome responsibility for which I am humbled, ready and willing to accept."
General President Wise is also stepping down as Labor Co-Chair of IMPACT, the labor-management arm of the Iron Workers. General Secretary Dean will be taking over in that capacity. "The Iron Workers and IMPACT have thrived under General President Wise's leadership," said IMPACT Management Co-Chair Bill Brown. "I am certain General Secretary Dean will continue to make huge strides in helping the Iron Workers and their contractors prosper."
"I have…the desire to explore the future with the knowledge that the Iron Workers will flourish under the guidance of General Secretary Eric Dean and his leadership team," Walter Wise stated.