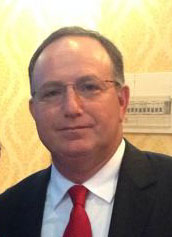 The many benefits of Web TV, including the portability and personalization capabilities and viable alternatives to traditional cable and satellite, is what people want.
Pittsburgh PA (PRWEB) April 27, 2015
WhereverTV Broadcasting Corp. (OTC: TVTV), a leader in delivering Over the Top (OTT) subscription television services to a variety of devices including Connected TVs, streaming media players, smartphones and TabletPCs, today announced that it has appointed Edward D. Ciofani to the Board of Directors and to lead the company as Chief Executive Officer. Mr. Ciofani will serve on the Board of Directors as Co-Chairman. Additionally, Mr. Ciofani provided his immediate strategic initiatives.
As CEO, Edward Ciofani will lead WhereverTV in the development of plans for strategic growth and in the effort to implement and finance those plans. Mr. Ciofani brings 28 years of public company and public market experience including 18 years of experience in Financial Markets with an emphasis on Investment Banking, Mergers & Acquisitions, and the trading of stocks. With personal ownership in 14 US & International corporations, Mr. Ciofani also provides substantial expertise with development, start-up and growth stage companies at the administrative and finance levels. Mr. Ciofani is also a skilled business manager with regards to corporate structure, personnel recruitment, supply chain efficiencies, sales, customer service and contract negotiation in B2B, B2C and B2G business environments.
Commenting on his appointment, Mr. Ciofani said, "The many benefits of Web TV, including the portability and personalization capabilities and viable alternatives to traditional cable and satellite are what people want. I am deeply honored to have this opportunity to lead WhereverTV through the important time of corporate positioning and product deployment, and beyond. Our patented, portable and personalized content delivery technology combined with the team of talent I intend to bring will provide us with a unique opportunity to shape the future of live-streaming TV. My immediate goals are to restructure the company, add officers and personnel, expand the Board of Directors and get all filings current in order to up list the company to the OTCQB. Concurrently, I intend to take the steps necessary to deploy marketing, build the subscriber base, and initiate an over-the-top alternative to traditional cable or satellite subscription packages."
In connection with the move, Mark Cavicchia has transitioned from CEO into the new role of Chief Digital Officer. As WhereverTV's CDO, Mr. Cavicchia will be responsible for developing and managing the Company's digital strategy, which encompasses all aspects of technology, creation of subscription packages, customer retention and other matters relating to the Company's products and services. Mr. Cavicchia will also serve as Co-Chair of the Board of Directors.
"We are pleased to have Mr. Ciofani on board to take WhereverTV to the next level," stated Mark Cavicchia. The time could not be riper for Internet television opportunities and Mr. Ciofani has the strategic vision, the drive, and the connections to advance WhereverTV in the industry. And with his focus on building shareholder value, we have never been more poised to create a winning scenario for consumers and shareholders alike," he added.
For more background information about WhereverTV, please click: Internet TV, Over the Top, WhereverTV, or OTC Markets.
Or contact:
Ph: 412-663-0094
Email: pr(at)wherever(dot)tv
--------------------------------------------------------------------------------------------------------------------------------
About WhereverTV Broadcasting Corporation (Symbol: TVTV)
Founded in 2007, WhereverTV is the next generation subscription television service providing consumers with live-streaming, genre-specific, and in-language viewing choices from around the world, delivered to anywhere in the world, and through any internet enabled device. Programming is identical to existing broadcast and distribution providers with the only differences being that the broadcast signals are accessed through the internet via an over the top (OTT) platform, and channel management is handled by company's patented Interactive Program Guide (IPG) technology. WhereverTV provides an economically beneficial and completely versatile alternative to traditional cable and satellite services, with the added benefits of personalization and portability. Also known as Internet TV, WhereverTV delivers these same channels, shows and events to SmartTVs and digital media receivers including: GoogleTV, AppleTV, Roku, Amazon FireTV, iPhone, iPad, iPod Touch, Droid Smartphone, and TabletPCs. The WhereverTV platform enables subscribers to access licensed and free-to-air content across these devices with the IPG across unlimited geographies, and wherever there is internet connectivity. The customer viewing experiences are based on customer location (geo-targeting) and content-rights management (subscriptions). Current in-language subscription offerings include Arabic TV, French TV, Italian TV, and Moroccan TV. Current genre specific subscriptions include NEWS channels, faith based channels and more. Apps are presently available for free in App Stores for iOS (Apple), Android, GoogleTV and Amazon FireTV devices. DVR functionality to record your shows and view later is presently in the works. Licensed US TV content subscriptions will be available in 2015. Please visit: http://www.wherever.tv, for more info.