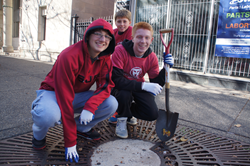 (PRWEB) April 23, 2015
The Travis Manion Foundation's National Service Week is a nationwide service event held bi-annually, which honors our nation's fallen heroes by serving the local community in their memory. Last November, more than 500 volunteers participated in the National Service Week in five cities throughout the country. This year, during the week of April 25th through May 3rd, a record number of volunteers throughout the country are expected to participate in the Travis Manion Foundation's National Service Week events.
The National Service Week will consist of a diverse range of projects including outdoor beautification, beach cleanups, and inner-city high school mural arts projects just to name a few. All projects will activate veterans, families of the fallen and young adults to serve their local communities in honor of fallen heroes.
About Travis Manion Foundation
The Travis Manion Foundation is a 501(c)3, founded shortly after the death of 1st Lt. Travis Manion in Iraq on April 29, 2007 by the fallen Marine's mother, the late Janet Manion. Her goal was to empower our nation's veterans and support other family members of the fallen, to ensure that our nation's heroes are never forgotten. The powerful words Travis spoke before leaving for his second and final deployment to Iraq – "If Not Me, Then Who..." – have inspired a national movement that is growing rapidly. The Foundation challenges veterans and families of the fallen to lead the "If Not Me, Then Who…" movement, and inspires others to continue the service to community and country exemplified by the nation's fallen heroes.