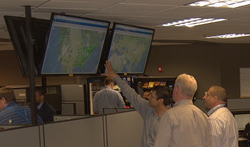 Our clients gain significant benefits from ShoreGroup's proven services approach.
NEW YORK, NY (PRWEB) April 27, 2015
ShoreGroup today announced that it has achieved the Advanced Enterprise Networks Architecture Specialization from Cisco Systems. This designation recognizes ShoreGroup's proven ability to provide sophisticated, value-added Cisco Enterprise Networking solutions through a combination of in-depth sales capabilities, technology expertise and service offerings.
To become an Advanced Enterprise Networks Architecture Specialization partner, ShoreGroup met all Cisco training and program requirements and demonstrated its competency to successfully design, deploy and support Cisco's Enterprise Network solutions. Clients leverage ShoreGroup's services to implement and manage resilient, high-performance enterprise networks and applications that differentiate their business while reducing operational costs.
"Our clients gain significant benefits from ShoreGroup's proven services approach," said Barry Katzman, ShoreGroup's Director of Sales Engineering. "Our professional services align components of the Cisco Enterprise Network architecture to the client's specific requirements and strategic objectives. Our ShorePatrol Managed Services then keep the network operating in top form so our clients can continue to realize the best business outcomes throughout the lifecycle of their investment."
About ShoreGroup
ShoreGroup is the globally recognized managed services company helping customers achieve their strategic goals by empowering IT operations. Our service approach enables customers to leverage ShoreGroup's expert knowledge and comprehensive patented management technology to create and ensure the optimal success of their vital unified communications, collaboration, contact center, virtualized data center and network assets.
Our customers are major enterprises, cloud and hosted solution providers, medium to large businesses and government agencies that rely on ShoreGroup's service solutions to realize their business objectives for reduced IT operational costs, service assurance, improved availability and performance, and increased customer satisfaction. ShoreGroup's innovative services are delivered directly or through leading channel partners who recognize that ShoreGroup has the best in class service and management technology in the industry.
Additional information about ShoreGroup's products and services can be found at http://www.shoregroup.com.
April 27, 2015
FOR: ShoreGroup, Inc.
CONTACT: Glenn Yeeles
ShoreGroup, Inc.
460 West 35th Street
New York, NY 10001
212-364-6800 x7471
ShoreGroup®, SG Logo®, CaseSentry® and ShorePatrol® are registered trademarks of ShoreGroup, Inc. Cisco and Cisco Systems are registered trademarks of Cisco Systems, Inc. in the U.S. and certain other countries. All other marks are property of their respective owners.