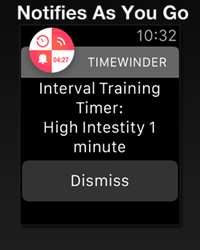 "This app has made me a more effective and at times, a much happier person."
San Mateo, CA (PRWEB) April 24, 2015
Timewinder is an interval timer and task manager designed to help keep on track of fitness, productivity and other goals. More flexible than any other app in its class, Timewinder allows customers to create or use available content to manage your yoga, fitness, meditation, productivity and other timed routines. Now with Apple Watch support, Timewinder is available today in the App Store. No other app in this class provides so much power and functionality.
Timewinder's flexible features allow it to be applied to multiple scenarios, creating timing routines for any of them. Social sharing features allow easy sharing of routines with friends via Facebook, Pinterest or email. Free timing programs available monthly help expand the utility of the app. Now with Apple Watch support, all of this can be managed even more effortlessly.
"We've always provided innovative features very early on," says S.E. White, product creator and Widget Revolt co-founder. "Timewinder was one of the original interval timers and task managers. We were the first interval timer to include social sharing. Now, Timewinder is the first product of this class to include Apple Watch support. We intend to keep on innovating and expanding the utility of this product in surprising new ways while our competitors deliver these features months, or even years later."
"We're very excited about what this Apple Watch integration means for our customers. Going forward, we will continue to deeply integrate with Apple Watch as more functionality is made available to developers. We really want to maximize our use of the Apple Watch's potential to create amazing, innovative experiences that will take people by surprise," Ms. White says.
Features:

Elegant design is easy-to-understand
Now with Apple Watch support. Watch interval timers running from Apple watch, receive notifications and check out progress, in a glance
Built-in tutorials
Easy playback mode with options for readability and customization
Optional screen lock mode
The first interval timer with free timer templates and sharing
Easily share workouts and other timers with friends
Full interval support, with hour, minutes and second support
Support for custom pictures, text and sounds for each interval
Use the built in recorder for voice clips for each interval
Support for custom pause controls for each interval
Easy editing
Works flawlessly with phone, video, music and other apps.
Full background support
Universal app for all devices
Pricing and Availability:
Timewinder with Apple Watch integration is available with ad support. There is also an Android version available on Google Play.
Devices Requirements :
iOS 8.0 and greater, 16 MB
Direct Download:
https://itunes.apple.com/us/app/timewinder-ultimate-interval/id384321301?mt=8
https://play.google.com/store/apps/details?id=com.widgetrevolt.timewinder&hl=en
Learn More:
http://www.widgetrevolt.com/products/timewinder/