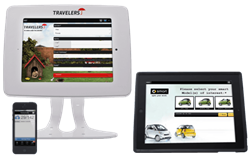 QuickCapture 5.0 provides our clients with the most scalable, reliable and user-friendly lead capture application on the market
Chicago, IL (PRWEB) April 29, 2015
eshots, Inc. (http://eshots.com) announced today the release of their newest lead capture application, QuickCapture 5. This release is a significant upgrade from QuickCapture 4, further helping enterprise brands manage and optimize lead capture at their consumer-facing events. This version of the software includes several critical new features and back-end improvements, designed to create a more responsive and user-friendly experience for event marketers.
The primary updates in this release include:

Onsite sync functionality for multiple activation points (eliminating the need for passes)
Fully integrated with eshots' photo application-Snapshot
Support for both portrait or landscape mode when used on tablets
Improved auto-population of consumer information
Faster and more responsive interactions
"QuickCapture 5.0 provides our clients with the most scalable, reliable and user-friendly lead capture application on the market," said Craig Steensma, founder and CEO of eshots. "We've listened to our client's needs and have launched a truly next-generation solution, which they've come to expect from eshots," Mr. Steensma continued.
QuickCapture has been the gold-standard for lead capture in the experiential marketing industry for almost two decades, helping enterprise brands capture millions of consumer leads from tens-of-thousands of event days each year.
For more information, please visit http://www.eshots.com or contact eshots at info(at)eshots(dot)com.
About eshots
Founded in 1998 and headquartered in Chicago, IL, eshots, Inc. (http://eshots.com) is the leading event intelligence platform in the experiential marketing industry. eshots helps its clients to set and benchmark event strategies, maximize consumer lead capture and track/convert those leads into sales. eshots' team of consultative account specialists deliver enterprise clients with world-class technologies and solutions within a data-driven framework designed to maximize ROI around their events. eshots' clients include many respected enterprise brands, including Chrysler, Ford, General Motors, Jaguar-Land Rover, Mazda, Mercedes-Benz, Mitsubishi, Nationwide, State Farm and Keurig. Eshots helps its clients to capture millions of consumer leads from thousands of consumer events each year. The company received a net promoter score of 73 last year, placing it among some of the most respected brands in the world in terms of client satisfaction.
Press Contact:
Craig Steensma
CEO
eshots, Inc.
312-253-1555
** Mr. Steensma is available for interviews
** Photos available upon request