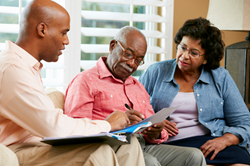 Lincoln, R.I. (PRWEB) April 24, 2015
April is National Financial Literacy Month, and Amica Insurance is offering five tips to help you financially prepare for the unexpected.
Emergencies and weather-related disasters can occur at a moment's notice, so it's important to be ready. As a result, Amica is sharing the following tips from the Property Casualty Insurance Association of America:

Conduct an annual review of insurance policies and limits: This will ensure that you are adequately covered to handle a catastrophic loss.
Talk with your insurance company about additional coverages: These coverages will help protect against things like floods and earthquakes, which are not typically covered under a standard homeowners policy.
Find ways to reduce potential damage to property: Taking these precautions can lower insurance costs and shorten the recovery time after a disaster.
Make a home inventory: Having a record of all of your belongings will help when reporting a loss to the insurance company so that you are fully compensated.
Prepare for power outages and other issues that could impact finances: As severe weather approaches, fill up your gas tank and take out cash to pay for temporary housing or food.
About Amica Insurance
Amica Mutual Insurance Co., the nation's oldest mutual insurer of automobiles, was founded in 1907. The company, based in Lincoln, Rhode Island, is a national writer of auto, home, marine and umbrella insurance. Life coverage is available through Amica Life Insurance Company, a wholly owned subsidiary. Amica employs more than 3,400 people in 44 offices across the country. For more information, visit Amica.com.
Contact: Vince Burks, Corporate Communications, 50 Amica Way, Lincoln, RI 02865-1155, 800-652-6422, ext. 24563
Twitter: Amica
Facebook: Amica Mutual Insurance Co.